Should I Play Poker Cash Games or Tournaments?
You're in the right place if you want to learn the differences between poker cash games and tournaments. At the top legal poker sites in the US, you can enjoy poker cash games or tournaments at a range of stakes. But before you jump onto the tables, get a better understanding of which poker games to choose, and why you should play them.
Should I Play Poker Cash Games or Tournaments?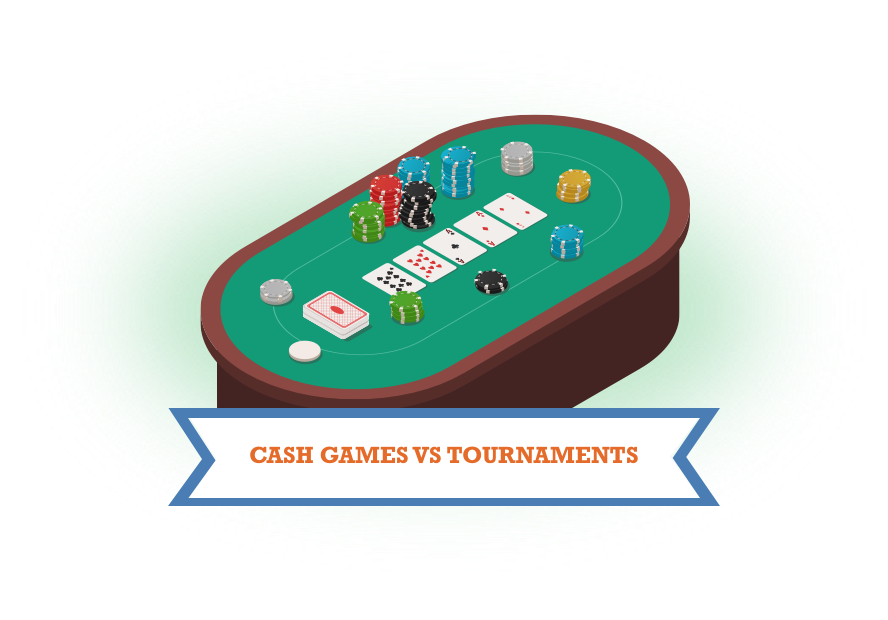 What are Poker Cash Games?
You play a cash poker game with a set bankroll. But if you run out of money, you can replenish your bankroll without leaving the table. One of the most important poker cash game rules is that the blinds and stakes in cash games never go up, unlike in tournaments. Poker cash games will run online as long as there are players at the table.
At the best poker sites, you will find a range of minimum and maximum stakes. Oftentimes, you can filter tables by stakes (micro-limit, low, medium, or high) and maximum number of players.
No Limit Texas Hold'em is the most popular format of online cash games, but most good poker sites will offer Pot Limit and Limit games too. You can also play Pot Limit Omaha (PLO), 5-card Stud, and 7-card Stud cash games at many good online poker sites.
When you sit down at an online cash game, you need to decide what bankroll you will be playing with. Games are displayed in the lobby with their blinds. So, a $1/2 No Limit Hold'em cash game will have blinds of $1 and $2. These blinds never change.
All cash tables have a minimum and maximum buy-in. The minimum buy-in is the lowest amount you are allowed to sit down with.
Typically, the lowest buy-in will be 20x the big blind. In a game of $1/2, the minimum buy-in is therefore $40. The maximum buy-in will be around 100x the big blind, or $200 in our example.
All poker cash games feature a rake. This is a charge paid to the casino or poker site for hosting the game. Rake amounts can vary but typically you will pay 5-10% of a pot, up to a maximum of $5 or $10.
How do Poker Tournaments Work?
Online poker tournaments work differently to cash games. You pay a tournament entry plus a fee and receive a set amount of chips. You then play until you are the last person standing, or you run out of chips. The prize money is split between a percentage of the top players.
When comparing cash games vs tournaments, you need to consider your bankroll. Tournaments are much harder to make money in than cash games. You should spread your bankroll more evenly among tournament buy-ins.
Freerolls
Freerolls are completely free to enter.
Satellites
Cheap qualifiers for large tournaments.
Sit n Go
SNGs start once all seats are filled.
Freezeouts
In a freezeout, you pay a single buy-in as entry. There are no rebuys, and once your chips are gone you are out.
Freezeouts are popular among recreational players as there is just a single buy-in allowed. Players with large bankrolls can't get an advantage by making multiple rebuys.
Rebuy Tournaments
In a rebuy poker tournament, you have the option to buy more chips when you bust out. The tournament may allow unlimited rebuys or limited rebuys for the first hour.
You may also have an option to take an add-on. This is an extra amount of chips you can take once the rebuy period has ended.
Freerolls
Freerolls are tournaments that are free to enter. The poker site will donate a set amount to the prizepool. This is shared among the top 5-10% of finishers. You can oftentimes claim entry to a freeroll when signing up to a poker room online.
Satellites
Poker satellites are cheap qualifiers where you can win entry into a larger online tournament. You can also use satellites to win entry into a big live tournament.
The beauty of satellites is that you can choose your entry level. Enter a micro-stakes satellite to win entry into the next level of qualifier, or buy directly in to a satellite final for a shot at winning a big prize.
Many satellites and satellite finals guarantee prize pools. If the satellite is for a live event, it may guarantee several packages that include tournament buy-in, flights, and spending money.
Sit & Go Tournaments
Sit & Gos (SNGs) are tournaments that start as soon as every available seat is filled. Single-table tournaments (STTs) are the most common form, but bigger poker sites will run Sit & Gos for up to 100 players.
Many serious poker players will only play Sit & Gos. They require a lot of strategy, but it's possible to make good profits if you play a large volume.
Single-table Sit & Gos feature 9 or 10 players. The prize money is divided between the top 3 finishers, usually in a 50%/30%/20% ratio.
Some poker sites also run jackpot SNGs. These feature special jackpots that are paid out if you win six Sit & Gos in a row.
Poker Cash Games vs Poker Tournaments
Cash games or tournaments? It's a hard question to answer. Choosing between the two types of poker is down to personal preference. You need to be clear about what you want to achieve in poker.
Let's compare the pros of cash vs tournament poker.
Cash Games
Make quicker profits than tournaments

Leave the game whenever you like

Play with the same blinds every hand

Earn cashback during your sessions

Join a rake race and claim a bonus

Claim a bad beat jackpot
Poker Tournaments
Win a share of a big prize pool

Choose between SNGs, satellites or freezeouts

Win entry to a big live event cheaply

Enter a deep stack event for longer play

Favor tighter gameplay than cash games
Are Cash Games Harder than Tournaments?
Cash vs tournament poker is a comparison you will have to make when you start playing poker online. Poker cash games can be looser than tournaments, but you can make a profit very quickly.
In cash games, you can also get up from the table any time you like. In a tournament, you're there until you bust out or win. You may end up playing a tournament for hours and still not win anything.
Playing online poker tournaments for money is arguably harder than cash poker games. You have to judge stack sizes, keep an eye on the blind levels, and assess new players at your table.
In cash games, you are often playing against the same 8 or 9 opponents for hours at a time. You can stick to one type of play for however long you are at the table. For example, you can often make a profit in cash games by playing tight and basic poker. In a tournament, you are constantly having to adjust your play depending on the situation.
We hope we've helped you decide to play cash games or tournaments. Now it's time to get playing online. Choose one of our top-rated poker rooms and start playing cash or online poker tournaments for money.
Cash Games vs Tournaments FAQs
Do poker tournaments use real money?
No. Once you enter a tournament online, you will be given virtual chips to play with. Once you run out of chips, you are out of the tournament. However, those virtual chips will eventually be converted to real money if you make wins.
How much should you buy into a poker game with?
For online poker tournaments, you should use 1-2 percent of your bankroll for a buy-in. That rule applies to Sit & Gos and tournaments.
Can you make a living playing poker?
Yes, but it's important to practise sensible bankroll management to make a career out of poker. You need to factor in taxes, downswings, and travel costs.
How many buy-ins should you have for a cash game?
For a cash poker game, try to sit down with over 20x the minimum or maximum buy-in. Many players will have 50x the minimum buy-in.