Gambling in Virginia
Though lawmakers have restricted gambling in Virginia for a long time, key changes are on their way. These would allow residents of Old Dominion to gamble both online and in brick-and-mortar locations in a safe and regulated manner. The new legislation and laws that the government is writing up could allow gambling to be more widely available across the state.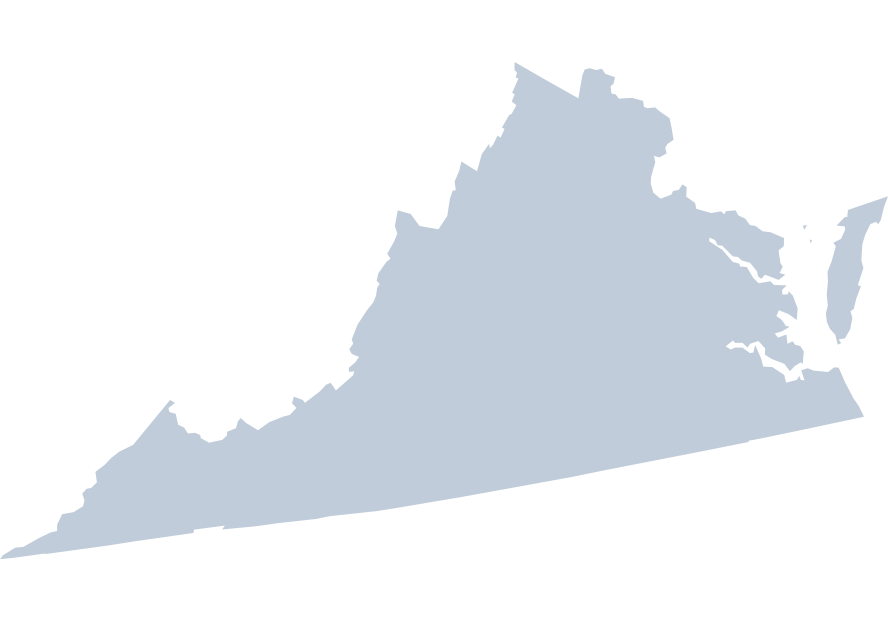 Though lawmakers have restricted gambling in Virginia for a long time, key changes are on their way. These would allow residents of Old Dominion to gamble both online and in brick-and-mortar locations in a safe and regulated manner. The new legislation and laws that the government is writing up could allow gambling to be more widely available across the state.
Online Sports Betting in Virginia
In Virginia people can't currently bet on online sports as it is against the law. You can't place sports bets in brick-and-mortar retail locations either. However, some key changes might introduce sports betting through the lottery in VA. The three bills HB4, HB 896, and SB 384 have the potential to make their way to Governor Ralph Northam's desk for signing.
If these bills pass into law, the regulation of sports betting in Virginia would fall to the state lottery. It is likely that these bills would regulate betting on professional sports but would place restrictions on wagers for collegiate sports. With top daily fantasy sports providers like DraftKings and FanDuel already operating within the state, these will probably be some of the first providers to also open sportsbooks once regulations are in place.
You will be able to follow the progress of these bills on this page as new updates emerge.
Are Online Casinos Legal in Virginia?
Gambling in Virginia has always been an interesting area of discussion, especially when it came to casinos. In VA, people cannot currently enjoy online casino play as it is illegal. Moves to legalize brick-and-mortar locations have been slow but there is finally some traction.
The first indication that change may be on the way came in 2018 when the Virginia General Assembly legalized slot machines at the Colonial Downs Racetrack in a bid to revitalize it. In December 2018, State Senator Louise Lucas filed SB 1126. This passed through various committees and votes before Governor Northam signed it into law on March 22, 2019.
This bill allows the Parmunkey Indian Tribe to build and manage two casinos. More gambling locations may open soon in Virginia, but citizens who live nearby must approve them in a local referendum.
If lawmakers do introduce a new bill that fully legalizes online casinos in the Old Dominion, you will be able to follow its progress here on this page.
Online Poker Laws in Virginia
As with online casinos, gambling laws in Virginia regarding online poker are similarly restrictive. Currently, there are no sites you can head to for regulated games in the state. Online poker for real money is available from overseas sites, but the state does not regulate them to make sure they are safe. Until lawmakers enact changes to gambling laws in VA, it's best to avoid participating in poker play at these sites.
There are some changes on the way that might make a difference to how lawmakers view poker in Virginia. Amongst a set of other legislation, Senator Lucas was able to pass a change to the definition of poker in 2017. Though the other bills did not pass the Senate, she was able to classify poker as a game of skill rather than one of chance. This is fantastic news for poker-loving fans from all walks of life in Virginia. With the game now classed as a skill, it will be much easier to fully regulate.
SB 1126 will be key in this as it does legalize gambling in the form of poker, amongst others. Laws specifically tackling the online variant could appear at some point in late 2020. You can keep up to date with any new legislation on this page when it appears.
The Top Daily Fantasy Sports Sites in Virginia
Virginia became one of the first states to legalize and regulate daily fantasy sports when Senate Bill 646 passed into law in March 2016. Sign up to one of the best daily fantasy sports sites in the Old Dominion here:
No Deals Available Yet!
Hey partner, We're sorry to inform you that we don't have any deals available just now. Currently, we are vetting regulated online gambling and betting sites for every state. In a few weeks you'll find our pick of the best sites right here, so check back soon. In the meantime, you might be interested in learning more about sports betting, the best sports to bet on and interesting strategies.
MORE ABOUT SPORTS BETTING
The Journey of Daily Fantasy Sports in Virginia
Daily fantasy sports law in Virginia requires you to be 18+ to play these games. This state became the first in the US to regulate this type of gameplay with the introduction of the Fantasy Contests Act, or SB 646. State Senator Ryan T. McDougle introduced this bill and then-Governor Terry McAuliffe signed it into law on March 7, 2016.
In Virginia, people can now legally enjoy daily fantasy sports. Many of the top sites like FanDuel and DraftKings offer their games here.
The Online Lottery in Virginia
The Virginia Lottery is available throughout the state. Lawmakers created the modern lottery in 1987 after a referendum, with tickets going on sale on September 20, 1988. There are currently over 5000 retailers around the state that you can purchase lottery tickets from.
There are several daily games that residents can choose to play in. These can carry jackpots up to $5000 depending on the game chosen. There is also a twice-weekly draw called Bank A Million with a jackpot of $1,000,000.
Players can also take part in the multi-jurisdictional games Cash4Life, Powerball, and Mega Millions. You can purchase tickets for the these games at a designated retailer or online.
Residents in Virginia can also find options for scratch cards and games called Print 'n Play. Scratch cards, or scratchers as they are known as in the state, have been part of the lottery's products since it launched. All games over $20 have a maximum jackpot of at least $1 million. Players can print both tickets for Scratchers and Print 'n Play from terminals in retailers. Print 'n Play games include bingo, blackjack, and crosswords.
Players can check their winning numbers online at the official website or on the lottery's app.
Other Important Information About Gambling in Virginia
If sports betting becomes legal in Virginia, many people think that lawmakers would set the licenses at $250,000. The state would then tax providers from 15-20% on revenue depending on which of the proposed bills makes it to law. Fantasy sports providers currently pay a $50,000 annual license fee to be able to offer their products.
Since 1999, profits from the Virginia Lottery have all gone to K-12 education funds throughout the state. In 2019 alone, this accounted for $650 million which ended up being equal to approximately 10% of the state's budget for education. If winners don't claim their prizes, the winnings go to the state's Literary Fund. This provides low-interest loans for public school construction and renovation projects. The lottery transferred approximately $6.5 million to this fund in the fiscal year of 2019.
The Future of Gambling in Virginia
Gambling in Virginia currently sits in a gray area where certain aspects like poker and casino games are legal but no safe providers have yet emerged. With new legislation on the rise, it won't be long before the state fully regulates gambling in VA, and it is available for everyone.
FAQS
Is gambling illegal in Virginia?
Gambling is not completely illegal in the state of Virginia but there is little in the way of regulation to make it safe for most players. Lawmakers are currently examining new laws that may help to fully regulate gambling in VA.
Is poker legal in Virginia?
Poker is technically a legal form of gambling in Virginia thanks to SB 1126. This bill legalized many casino games, but there is currently nowhere where you can play them in a safe and regulated way, either online or at a land-based casino.
What type of gambling is legal in Virginia?
Currently, playing the lottery and participating in daily fantasy sports are both legal and regulated types of gambling in Virginia. Lawmakers are examining and introducing new laws that will also legalize slots, tables games, and sports betting across the state.
Are internet sweepstakes legal in Virginia?
Internet sweepstakes are not legal in Virginia. Following changes to the law in 2019, there has been a crackdown on shops that claim to offer this as a legal form of gambling.