Legal Gambling in Maine
The state government has slowly regulated gambling in Maine over the years. With two casinos and daily fantasy sports flourishing in the Pine Tree State, attention will no doubt turn to the legalization of online gambling and casino games. With lawmakers repeatedly introducing sports betting bills, changes to gambling regulations in ME are on the horizon.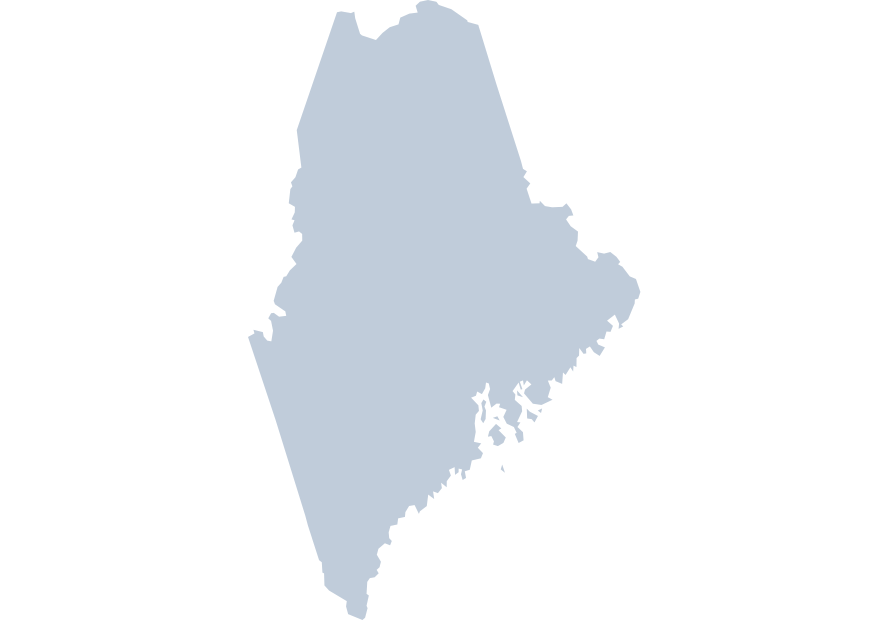 The state government has slowly regulated gambling in Maine over the years. With two casinos and daily fantasy sports flourishing in the Pine Tree State, attention will no doubt turn to the legalization of online gambling and casino games. With lawmakers repeatedly introducing sports betting bills, changes to gambling regulations in ME are on the horizon.
Is Online Sports Betting Available in Maine?
For now, the state of Maine prohibits sports betting. There have been moves to legalize it before, but they have all failed to become law. The latest move to make sports betting legal in ME was Bill LD 553. Governor Janet Mills rejected it and returned it to the two bodies of the state government. The Senate voted to overturn the veto, but the House upheld it, meaning that the bill failed to make it into law.
This is just the latest betting legislation that lawmakers have vetoed in Maine. Online sports betting has flourished across the US since the overturning of the 1992 Professional and Amateur Sports Protection Act in 2018. Sports betting has become legal across other areas of New England, but ME still prohibits this form of gambling.
If lawmakers manage to get a bill through, not only will they be able to introduce safe and regulated forms of sports betting, but they will also encourage Maine's residents not to travel across the state border into New Hampshire to place bets. The government can also put the revenue earned from legalizing sports betting back into the state for several projects.
If legislators introduce another sports betting bill in the future, you will be able to find more information on this page.
How to Gamble Legally at Casinos in Maine
Anyone wishing to try casino gambling in Maine are in luck. There are two casinos in the state that players can head to; the Oxford Casino in Oxford, and the Hollywood Casino Hotel & Raceway in Bangor. The latter is also one of the two racetracks in this state, with the other being Scarborough Downs in Scarborough. Pari-mutuel wagering on harness racing is a legal form of gambling in Maine and players can find it at both racetracks.
Following a referendum in 2003, the state legalized slot machines at racetracks, however the residents of Scarborough rejected this, so the state only introduced slots at Bangor. More legislation the following year introduced table games and made the Hollywood Casino the only full gambling casino in Maine.
Though the state has four federally recognized tribes, they do not have the rights that the Indian Gaming Regulatory Act gives other tribes in the US because the Maine Indian Claims Settlement Act supersedes this instead. Though they cannot operate casinos, the tribes can offer high-stakes bingo games instead.
In Maine, the state does not currently regulate playing at casinos online. Players may occasionally find a site that claims to offer an online casino for players from ME, however the government does not regulate these nor considers them safe.
If any bills appear that could regulate and legalize online casino gambling in Maine, you will be able to follow updates here.
Is It Possible to Play Online Poker in Maine?
As with online casinos in Maine, the state does not regulate online poker either. If you are searching for some live poker games, you can head to the Hollywood Casino in Bangor as they have poker rooms there.
When it comes to internet games in Maine, the Pine Tree State is in a gray area regarding online poker law. There are technically no laws prohibiting online poker, however the lack of regulations means that you should not consider these sites safe.
If lawmakers in the Pine Tree State put forward an online casino bill, they will likely consider poker as part of the terms. If such a bill appears, you will be able to follow its progress here.
The Top Daily Fantasy Sports Sites in Maine
Daily fantasy sports have been a legal form of gambling in Maine since 2017. Sign up to one of our favorite daily fantasy sites in Maine here:
No Deals Available Yet!
Hey partner, We're sorry to inform you that we don't have any deals available just now. Currently, we are vetting regulated online gambling and betting sites for every state. In a few weeks you'll find our pick of the best sites right here, so check back soon. In the meantime, you might be interested in learning more about daily fantasy sports and how to play them.
MORE ABOUT DFS
How Daily Fantasy Sports Came to Be Legal in Maine
In Maine, DFS became legal with the enaction of LD 1320 in 2017. Then-Governor Paul LePage chose to let the bill pass into law rather than sign the bill or veto it. This allowed daily fantasy sports to become legal, though the state does not permit betting on collegiate sports.
Many of the top providers now offer their games in the Pine Tree State. FanDuel and DraftKings are two of the biggest fantasy operators in the US, and the government allows both of their services in Maine.
Win Big with the State Lottery in Maine
The state set up the Maine Lottery in 1974 following a referendum. It is a member of the Tri-State Lottery alongside Vermont and New Hampshire. These are smaller games that they draw twice a day. They also have a game called Megabucks Plus which they draw twice a week with a minimum jackpot of $1,000,000.
Players can also buy scratchcards or take part in one of the multi-jurisdictional games the state plays with others. These latter games include Hot Lotto, Powerball, Mega Millions, and Lucky for Life.
Players must be 18+ to play the Lottery and they can buy tickets from retailers all over the state. When it comes to checking the winning numbers, players can head over to the lottery's official website. They can also join the free Maine Lottery club which gives them the possibility to play for second chance drawings and potentially win extra prizes like vacations or sports jerseys that famous athletes have signed.
Other Important About Gambling Facts About Maine
In Maine, daily sports providers pay a licensing fee of $2500 if their revenue is over $100K. On top of that, these providers must also pay a 10% tax on their gross revenue.
Profits that they raise from the Maine Lottery go to the state's General Fund. They use this to support several projects around the state including education, health services and more. Since the Lottery's inception in 1974, it has transferred over $1.24 billion to this fund. Some of the profits also go to the Outdoor Heritage Fund which helps to finance wildlife projects and critical conservation throughout the state. Since 1996, the Lottery has given $18.85 million to this fund.
The Future of Gambling in Maine
Though it may seem like ME will never legalize some forms of gambling, people have positive attitudes. Lawmakers are moving closer to the legalization of sports betting, and that may encourage a conversation towards online casino games and poker too. With opinions on gambling changing all around the US, Maine will likely follow suit and introduce some new laws soon.
FAQs
Does Maine allow gambling?
Yes, it is possible to engage in certain types of gambling in Maine. Daily fantasy sports and pari-mutuel wagering are both legal. You can also find slots and table games at the Hollywood Casino in Bangor.
What is the gambling age in Maine?
The gambling age in Maine changes depending on the activity. The minimum gambling age for casinos is 21 but it drops to 18 for pari-mutuel wagering, daily fantasy sports, and the lottery.
Is online gambling legal in Maine?
The state allows online gambling through daily fantasy sports, however it prohibits sports betting, and there is little regulation to cover online casino and poker games. When it comes to the latter, people should still avoid them as the state government does not regulate them, making them unsafe to play at.