The Top Real Money Video Poker Casinos for 2023
Online video poker is simple five-card draw poker game played against the house. It is a fun way to break into online gaming, as it is easy to learn, has no time limit, and has no pressure from other players. If you're looking to play video poker for real money, go ahead and sign up at one of our recommended legal casinos today. Still want to learn more about video poker? Just go to our guide section and we will teach you how to play, show you some popular game variations, and get you started with an intro to video poker strategy.
The Top Real Money Video Poker Casinos for 2023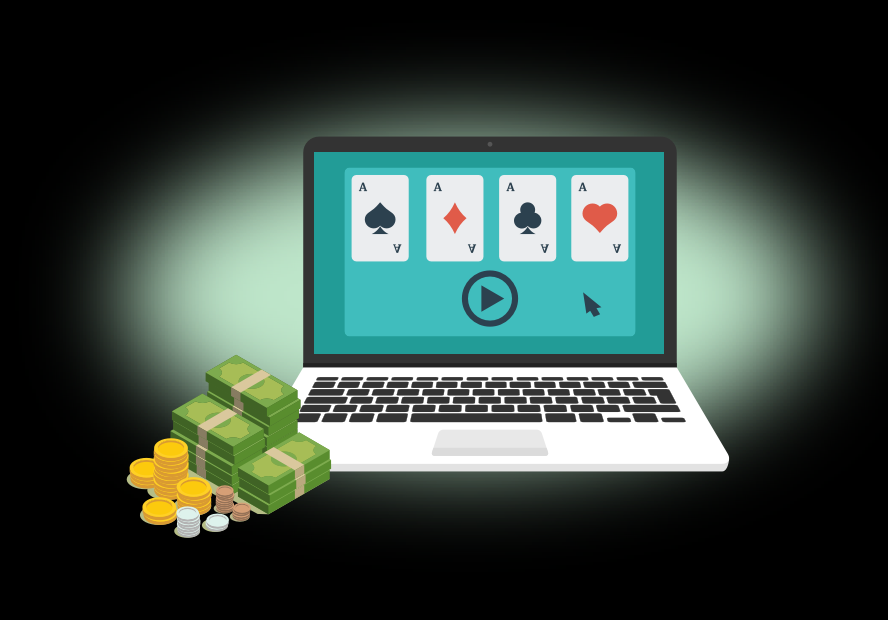 Best Video Poker Casino Sites
No Deals Available Yet!
Hey partner, We're sorry to inform you that we don't have any deals available just now. Currently, we are vetting regulated online gambling and betting sites for every state. In a few weeks you'll find our pick of the best sites right here, so check back soon. In the meantime, you might be interested in learning more about online casinos and the best casino bonuses in the USA.
MORE ABOUT ONLINE CASINO
Why Play Real Money Video Poker?
There are plenty of online casino games to play for real money, but video poker happens to be one of the best options. Here's why:
Low House Edge – The most popular video poker variant, "9-6" Jacks or Better, has an impressive return-to-player (RTP) of 99.54%.
Easy to Learn- While real money video poker has a mixture of skill and luck, it is still extremely easy to play. You won't require long nights with strategy pages for this one.
Big Payouts – When you've worked to get the best hand possible, you'll definitely be rewarded. Some real money video poker games will even give you up to 10,000 coins with a Royal Flush.
How to Play Online Video Poker
Video poker is a draw poker game in which the goal is to make as good of a five-card poker hand as possible. The player is dealt five cards from a 52-card deck and is given the opportunity to discard unwanted cards and draw new ones. After the draw, the player is paid based on the paytable if the hand is strong enough.
A typical online casino video poker game will display the five cards in the middle of the screen. The paytable sometimes runs across the top of screen and other times appears in the upper left. The bottom of the screen shows the current bet, player's balance, bet buttons, the deal/draw button, and buttons to view and change options.
Steps in an online video poker game
1

Select the bet amount using the bet denomination button along with the "Bet Up" and "Bet Down" buttons. These specific buttons can vary depending on the real money video poker casino. Bets are made in dollars and cents in video poker games online, not credits like they often are at live casinos.

2

Click the "Deal" button to reveal the five cards.

3

Click on each card you want to hold, or keep in your hand. Click a card again to remove the hold.

4

Click on the "Draw" button (which had been the "Deal" button) to discard the cards that were not held and receive new cards to replace them.

5

If the resulting five-card poker hand is strong enough, get paid according to the paytable
Video Poker Variants
While video poker is a simple game, players can find several different variants of video poker games online, just like in a brick-and-mortar casino. Poker hands are the same regardless of game (a pair is a pair and a flush is a flush no matter what game is being played), but rules can differ. For instance, certain cards might be wild in one online video poker game, changing the odds of hitting certain hands and therefore changing the payouts.
Different video poker variants will also have different Returns to Player (RTP), which is the percentage of a player's money that will circulate back to the player in the long run. For example, a 98% RTP, also called payback, means that over the long term, players well get 98 cents back for every dollar they wager.
Though not an exhaustive list, here are some common real money video poker variants:
Jacks or Better
This is the simplest, most straightforward of all the video poker games. Jacks or Better is exactly what it sounds like: the minimum payable hand is a pair of Jacks or higher. That minimum payout is exactly what the player bet, so it is a break-even hand.
The best hand is a Royal Flush.
Bonus Poker
Like Jacks or Better, the lowest payable hand is a pair of Jacks or higher, which is a break-even hand. The difference in Bonus Poker is that there are three different Four-of-a-Kind payouts.
Four 5s through Kings will typically pay the same as Four-of-a-Kind in Jacks or Better. Four 2s, 3s, and 4s has a higher payout and Four Aces has an even higher payout, better than a Straight Flush. To counter-balance the better Four-of-a-Kind payouts, a Full House pays worse than in Jacks or Better.
Double Bonus Poker
This game is the same as Bonus Poker with a couple primary payout differences. First, the different Four-of-a-Kinds pay double than in Bonus Poker. And second, the lowest hands pay worse.
Two Pair is now on the same tier as the Jacks or Better video poker hand, both just repaying the player's bet. Straights, Flushes, and Full Houses actually pay slightly better than in Bonus Poker.
Double Double Bonus Poker
As one might suspect, this video poker game is very much like the one above it. Two more Four-of-a-Kind variations are added: Four 2s, 3s, or 4s with any Ace, 2, 3, or 4 kicker, and 4 Aces with any 2, 3, or 4. The former tends to pay the same as Four Aces, while the latter pays significantly higher, often half of a Royal Flush payout.
The lower end of the payout table is worse than in Double Bonus Poker from Flush on down.
Deuces Wild
In Deuces Wild, all 2s can substitute for any other card. Three winning hands are added to the paytable: Four Deuces, Royal Flush with Deuces, and Five-of-a-Kind. Because Jacks or Better and Three-of-a-Kind are much easier to get with wild cards, they pay out nothing. For the same reason, the lower-ranking hands – anything less than a Straight Flush – tend to pay much lower than in other games.
Multi-Line Poker
In this variation, multiple hands are played simultaneously. The deal starts with a base hand. The player decides which cards to hold from that base hand and those held cards are carried through to all the other hands. For example, if the player holds two Kings, all hands are given two Kings. Upon clicking the "Draw" button, the non-held cards are swapped out for new ones on all hands.
Identical bets are made on all hands in play and each hand is evaluated and paid out separately. The most common varieties of multi-line poker at video poker sites are Triple Play (three hands) and Five Play (five hands). It is also common to see variations within each multi-line video poker type, such as Jacks or Better, Bonus Poker, etc.
Video Poker Paytable
Other than the cards you are dealt, the most important thing to pay attention to when playing video poker is the paytable. The paytable dictates what the best video poker strategy is for that session as well as the RTP. It would be unwieldy to list every possible paytable and tips for every possible online video poker game on this page, so we will look at the most common variant, Jacks or Better.
Jacks or Better Paytable
Payout is listed in terms multiples of bets. For example, "2x" means that the hand would pay two times the player's bet. If someone bet $5 and made Two Pair, the total payout would be $10.
Probabilities are calculated assuming a player implements the correct basic strategy and takes into account both the initial deal and the draw. Using a different strategy or making mistakes would change the probabilities.
| | | | |
| --- | --- | --- | --- |
| Hand | Description | Payout | Probability |
| Royal Flush | 10 through Ace, all of the same suit | 800x | 0.0025% |
| Straight Flush | Five consecutive cards, all of the same suit | 50x | 0.01% |
| Four-of-a-kind | Four cards of the same value | 25x | 0.24% |
| Full House | Three-of-a-Kind and a PAir in the same hand | 9x | 1.15% |
| Flush | Five consecutive cards | 4x | 1.06% |
| Three-of-a-kind | Three cards of the same value | 3x | 7.45% |
| Two Pair | Two separate pairs of cards of the same value | 2x | 12.96% |
| Jacks or Better | Two Jacks, Two Queens, Two Kings, or Two Aces | 1x | 21.44% |
Tips to Win Real Money at Video Poker
We will not go into detailed video poker strategy on this page, but the following is some basic advice if you want to jump into an online casino video poker game as soon as possible without much studying. Like above, this is based on the common Jacks or Better game.
Hold a low pair instead of a single high card.
Hold a low pair over an open-ended straight draw.
Hold a low pair over two suited high cards.
Keep three to a Royal Flush instead of four to a Flush.
Keep three to a Straight Flush over two unsuited high cards.
Keep two suited high cards over three to a Straight Flush.
If you don't even have a high card, just throw away everything and draw five new cards.
Take your time! There is no time limit when you play video poker online. Go slowly and make the right decision. Keep a strategy chart up in a browser window if you need to.
If the video poker game offers a bonus possibility for a max bet, make the max bet. You can usually vary your bet denomination to fit your bankroll.
History of Online Video Poker
The first video poker machines were made in the mid-1970s, when the technology reached a price point that made their manufacture viable. It was not until 1979, though, that the first video poker machine that more closely resembles what we know today was introduced. Draw Poker was created by Si Redd, who started Si Redd's Coin Machines (SIRCOMA) after Bally declined to back his innovation.
By 1981, Draw Poker was a fixture in casinos and Redd took his company public as International Game Technology, what we know today as IGT, one of the biggest names in the video gambling business.
The rise of the internet in the 1990s led to the founding of InterCasino, the world's first real-money online casino, in 1996. It was at InterCasino that online video poker was born.
Video poker online has evolved beyond its live video poker cousin. Video poker sites tend to offer a wider array of games and offer more bet flexibility, making it easier to find a game for every budget. Unlike slots, skill can be used in video poker games online to narrow the house edge and it is much less stressful than a regular poker game. It is similar enough to live video poker, though, that anyone who has played in a brick-and-mortar casino will be able to jump right into the games at any of the best online video poker casinos we recommend on this site.
Conclusion
What you read here is just a start, but that's enough for guaranteed fun playing real money video poker games. Video poker is a game where using the correct strategy can lead to success. Combine that knowledge with one of our recommended legal video poker online casinos and you are bound to have a good time.
Video Poker Glossary
1

Denomination – the value of a single bet.

2

Discard – to remove a card from one's hand.

3

Draw – the second deal of the cards after cards are held and discarded.

4

Edge – the mathematical advantage the video poker online casino has over the player, also known as "house edge." It is the opposite of Return to Player.

5

Expected Return – the average amount paid back on a specific play in the long-term.

6

Full-Pay – The standard paytable for an online video poker game. This is usually the original paytable from when the game was introduced and typically the best deal for the player (though some better payouts can be found). Full-Pay Jacks or Better is denoted as "9/6," which means a Full House pays 9 credits and a Flush pays 6 credits.

7

High Card – A single Jack, Queen, King, or Ace.

8

Hold – to keep a card in one's hand after the initial deal.

9

Paytable – table that shows the payouts for different hands.

10

Return to Player (RTP) – percentage of money paid back to a video poker player over the long-term.

11

Short-Pay – A version of a video poker game that increases the house edge by paying less than Full-Pay. An example of Short-Pay in Jacks or Better is "8/5," which means that a Full House pays 8 credits and a Flush pays 5 credits.

12

Wild Card – A card that represent any card in deck.
Video Poker FAQs
Can I get a video poker bonus?
Yes, most online casinos offer deposit bonuses. Bonus percentages, playthrough requirements, and withdrawal rules vary by site. Just check out our list of recommended casinos for the best real money video poker bonuses available today.
Is online video poker safe?
Definitely! As long as you play at a licensed, regulated video poker online casino, you should feel confident that everything is above board and your funds are safe.
Is online video poker legal?
Each state has its own online gambling laws. Several states have legalized and regulated real money online video poker. We recommend checking the laws in your jurisdiction before attempting to sign up.
How can I get better at online video poker?
There are many resources available to learn more about video poker, including books and websites, but we recommend reading our video poker strategy pages to further your education. What's nice is that when you play video poker online, you can keep our strategy information handy to help you as you play. Many video poker casinos also allow you to play for free so you can practice
How do I place bets with my money and get winnings?
Each online casino has multiple payment methods to deposit funds. They can include options like credit card, debit card, PayPal, and online bank transfer. Each site has a banking page that details the different options. Withdrawals are often made to the same payment method, except for credit cards. Again, check with the online video poker site for all the info.
What is the best online video poker casino?
That answer is ultimately up to your own personal preference, but we can help you get started with our reviews and choices of what we believe are the best video poker sites in the U.S.