Skill Games for Real Money
The number of people playing skill games for money has skyrocketed in recent years. After all, what could be better than profiting from something you're good at? Whether your talent is solving puzzles or spotting patterns, you can now play skill games online to win big bucks competing against other players. We're going to teach you the difference between games of skill and chance, discuss different types of real money skill games, and tell you where to play them online.
Skill Games for Real Money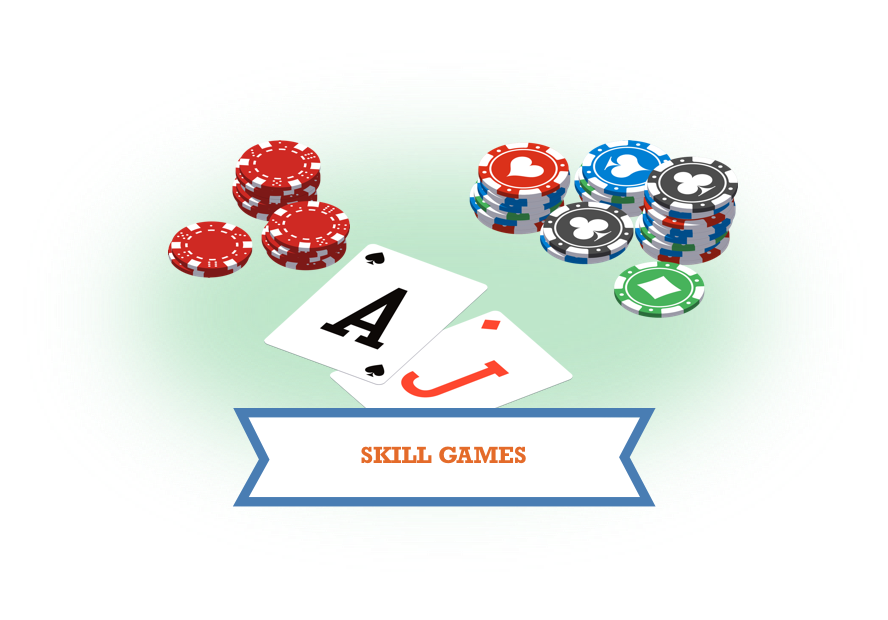 Games of Skill vs. Games of Chance
A physical or mental ability is required to play games of skill for money. This could be quick reactions to click the screen or a photographic memory to memorize what was displayed. Depending on the game, you may have to use your knowledge or think strategically to outdo your opponent and win the prize.
When it comes to games of chance, whether you win or lose ultimately boils down to luck. The outcome of these games is random, with a random number generator (RNG) used for online games. Craps is a prime example of a game of chance. You roll two six-sided dice and have zero control over the outcome.
What about poker, we hear you ask? Poker is contentiously hybrid. While an element of skill is involved in making the right plays, it's luck that determines which cards you are dealt.
There are two tests you can carry out to determine whether a game is based on skill or chance.
The Predominance Test
To carry out this test, think of a game of skill like chess on one end and a game of chance like craps on the other. Using simple logic, you can now think about the input required and frequency of wins to determine which end of the spectrum a game should lie. This will enable you to decide whether you're playing online casino skill games for cash or risking your money on games of chance.
The Material Element Test
This test asks whether skill or chance plays the biggest role in determining the outcome of a game. While a puzzle game like Minesweeper involves skill to learn patterns and decide where to click, an element of luck is also involved when you must guess at random. As winning ultimately requires you to be lucky in the long run, this categorizes Minesweeper as a game of chance.
Why Play Games of Skill?
Some of the many benefits of playing games of skill for money online include:
Legal in Many US States
A surprising number of states have embraced games of skill. Gambling laws vary on a state level, with lawmakers deciding whether poker, casino, and/or sports betting is legal or not. Thankfully, lawmakers in most states have a relaxed view when it comes to casino skill games. While other forms of gambling may be banned in your state, you may be allowed to play skill games for cash without breaking the law.
Profit From Your Skills
Why not make money from something you're good at? Perhaps you are a wizard with words and you love puzzles? Instead of filling in the blanks using pencil and paper, you could shift letters around faster than your opponent to win their money. Casino skill games give you the opportunity to put your money where your mouth is by competing against likeminded players. If you really are that good, you'll win.
Can I Earn Real Money Playing Games of Skill?
You certainly can! Online gaming sites like Skillz.com and WorldWinner.com allow you to participate in real money skill games around the clock. After you create an account at one of these sites, your first step is to make a deposit. Popular banking methods like credit card and PayPal will be available for you to select. Simply decide how much you would like to deposit and then find a game you want to play.
An entry fee is always clearly stated to let you know how much it will cost to play a certain game. As the online gaming site is hosting the site and pitting you against another player, they take a small fee for their service. Let's say a game has an entry fee of $20. As you and your opponent pay $20, this makes the pot $40. The site may take 10% to leave $36 for the person who comes out on top – you, hopefully!
Things are a little different when it comes to playing skill games online for free. You can usually hone your skills for virtual currency or points. Although this can be fun, nothing compares to the thrill of staking real money on a contest.
Different Types of Skill Games
You'll be spoilt for choice when you play real money skill games at the sites we recommend. They are constantly releasing exciting new games to keep their lobbies fresh. These games are usually categorized by their type. The five most common types of casino skill games are:
Card Games
Classic card games like solitaire, gin rummy, and bridge are always a popular choice for players who like to play skill games for cash. You'll often find many different variants of these games, each boasting its own twist on the standard format. We have a soft spot for 5-Card Solitaire due to its fast-paced nature.
Puzzle Games
Out-puzzle your opponent by thinking logically and solving solutions as fast as possible. Gambling games of skill like Cube Cube bear many similarities to Tetris, while games like Bubble Shooter Arena task you with blasting balloons. If you like Candy Crush Saga, you'll have fun swapping candies in CandyPrize.
Board Games
Prove how good you are at making decisions by playing your favorite board games for money. Casino skill games based on board games include favorites like chess, draughts, backgammon, and mahjong. Some sites even offer classics like Monopoly, where you must build a large property portfolio to win the prize.
Sports Games
Fancy scoring touchdowns in 2 Minute Football or making a few slam dunks in Moneyball? No matter what type of sport you enjoy playing or watching, you will find plenty of options. Other popular sports themed real money skill games include Pro 8 Ball World League, Mini Golf King, and Soccer Rivals.
Word Games
Are you a wizard with words? Prove it by playing word-based skill games for money. Titles like Word Race pit you against the clock and your opponent in a race to trace words. The Scrabble pros among you can win money by creating words in Word Cube. Or prove how fast you can type in Turbo Typing.
The Legality of Betting on Skill Games in the USA
There is no federal law against playing online skill games for cash. However, that doesn't mean that every state allows them. The good news is that most states in the USA view skill games differently than gambling. Games of skill can be played for real money in all states except Arizona, Arkansas, Connecticut, Delaware, Florida, Louisiana, Montana, South Carolina, South Dakota, and Tennessee.
Lawmakers in Indiana and Maine have legalized skill games; however, card-based games are not currently allowed to be played for real money.
Games of Skill FAQs
Are games of skill gambling?
In short, no. Courts rule that skill gambling is different from the games you can play at a casino. Skill games have an element of skill, rather than chance. As chance is one of the three elements required for a game to be considered gambling, this means that games of skill are not viewed as a form of gambling.
What's the difference between a game of skill and a game of chance?
First and foremost, skill games require a physical or mental ability like speed or knowledge. When you play a game of chance like craps or slots, the result is determined purely by chance. You can affect the result of a game of skill, but you can only cross your fingers and pray when you play games of chance.
Is chess a game of skill?
Absolutely! Real money skill games are defined as those with no elements of chance. As the result of a chess match is determined by the decisions you make against your opponent, it is certainly classed as a game of skill. Strategic thinking and high concentration levels are required to be successful at chess.
Is poker a game of luck?
Poker is one of the few games that is hybrid. Chance plays a small role as you have zero control over what cards are dealt. However, you can also use your skills to make the right plays and minimize luck. Chance can affect short-term results, but skillful poker players will profit in the long run.