The Best Online Horse Betting Sites
Our team of horse race betting experts have produced this guide to answer everything you need to know about horse betting. Online horse betting can seem complicated for the novice, so we have broken down all the relevant information into easy to understand sections. We explain everything about how the sport works including odds, types of bet, bonuses, legal status, the biggest horse races and even a glossary of horse racing terms. So, saddle up and discover the world of horse racing below.
The Best Online Horse Betting Sites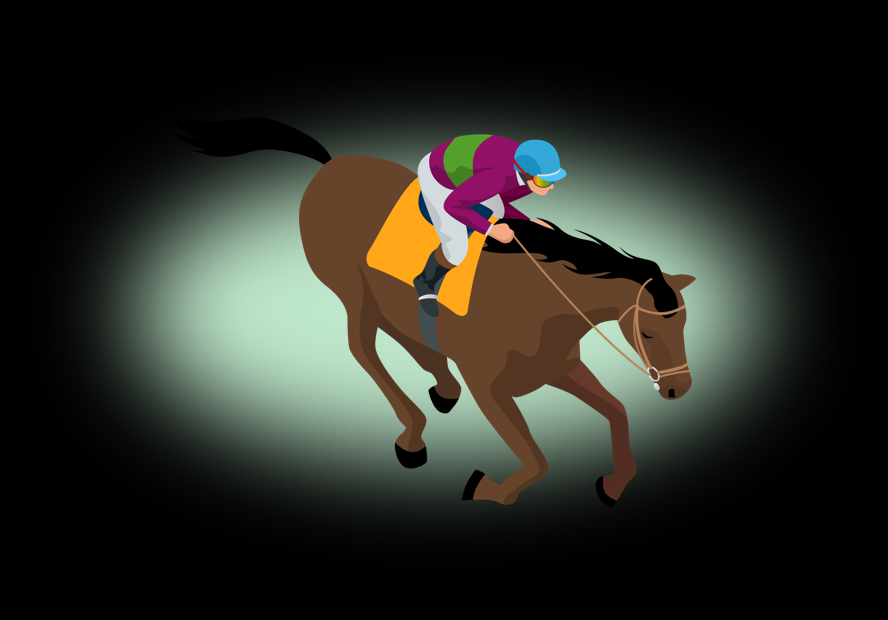 Best Sites to Bet on Horses
No Deals Available Yet!
Hey partner, We're sorry to inform you that we don't have any deals available just now. Currently, we are vetting regulated online gambling and betting sites for every state. In a few weeks you'll find our pick of the best sites right here, so check back soon. In the meantime, you might be interested in learning more about sports betting, the best sports to bet on and interesting strategies.
MORE ABOUT SPORTS BETTING
Horse Betting Explained
Each horse racing meeting features a number of races on which you can bet. The number of runners can vary, but the basic aim remains the same. You need to pick out the winning horse, or alternatively a horse that will finish in the top two or three in the race.
In order to place horse race bets, you must start by opening an account with a sportsbook. There are lots to choose from, that's why our team has done the legwork for you. We've tried and tested a huge amount of US betting sites and our top recommendations are listed above.
Once you've signed up for a sportsbook account, just click on horse racing from the list of sports and range of meetings from the US and around the world. Choose the meeting and then the race you want to bet on, and the list of horses will appear. Click on the one that you like, and you will be asked to enter the type of bet you want to place and the amount that you wish to stake.
Finally, you'll be asked to confirm the bet (which prevents a bet being placed in error). Click confirm and congratulations, you've just placed your first horse racing bet!
Understanding Horse Betting Odds
There are three main types of horse betting odds. American odds which are used in the USA, fractional odds which are popular in the UK and decimal odds which are more common in Europe.
American odds are the type that you're most likely to see. If you look at the market for a horse race, next to the name of the horse will be a figure, preceded by a (+) or (-) sign. Generally, you'll see more horses with (+) signs.
The figures next to the + or – refers to how much you will win if you bet $100.
So, if a horse has a price of +700, it means that when you bet $100 you stand to win $700. You'll also get your $100 stake returned.
It's rarer to see horses with a (-) sign, as that indicates that they are a very strong favorite, which in a race featuring a number of different horses, is unusual. With – odds, the figure indicates how much you'd have to bet to win $100.
If a horse was priced at -120, it would mean that you would need to stake $120 in order to win $100. Again, your stake will return to you if the horse wins.
Different Types of Horse Bets
There are a number of different types of horse bets. Here's the main ones that you'll encounter when horse betting online.
Straight Win
As the name suggests you are simply betting on a horse to win. If it fails to finish first in the race, you lose.
Place
A place bet will be a winner if your horse finishes first or second.
Show
A show bet will see your horse be a winner if it finishes first, second, or third.
Across the Board
A bet on a horse to win, place and show.
Straight Exacta
A straight exacta requires you to pick the horses that will finish first and second in a race.
Straight Trifecta
With a straight trifecta, you have to pick out the horses that will finish first, second and third.
Straight Superfecta
A straight superfecta sees you having to select the horses that will finish first, second, third and fourth in the race.
Quinella
This is like a straight exacta in that you have to pick out two horses that will finish first and second, only with a quinella the order that they finish does not matter.
Double
A parlay bet in which you have to pick the winners of two different races. Your winnings and stake from the first race – if successful – will go onto your selection for the second race.
Pick 3
A pick 3 bet works the same as a double, only with three selections. Four selections in a parlay are called a Pick 4, five a Pick 5 and so on.
Free Bets and Promotions for Online Horse Betting
With the world of legal online sportsbooks being a relatively new concept in the USA, sites are willing to offer generous promotions in order to win new customers.
Free bets are a common offering to tempt you to open a new betting account. Upon registration, you will be given a small free bet, which is normally somewhere between $10 and $20. This is a good way to introduce yourself to horse race betting without having to worry about losing your own money.
Another promotion that you often see for new sportsbook account holders is a risk-free bet. With this type of offer, the bookmaker will refund your bet if it's a loser. These offers can be for fairly big amounts of money such as $500.
With risk-free promotions, you place a $500 bet, for example, and if it loses, they will refund your money. If it wins you have got off to a great start with your new betting account.
Once you've got your account set up you'll find that the free bets and promotions for online horse betting just keep on coming. Sites will give free bets, risk-free bets and enhanced odds offers to keep users interested and reward them for their loyalty.
With no restrictions on how many accounts you can open with different horse race betting sites, you can take advantage of the various offers and bonuses available. This is both financially beneficial and allows you to try out lots of different sportsbook's sites, to see which one you like best.
Promotions and free bets are one of the main factors we considered when choosing our recommended sites. All our recommendations have excellent promotions and welcome bonuses, so check them out now.
Benefits of Legal Horse Betting Online
Having to place horse race bets at the track or a casino was a pain and stunted interest in the sport.
Uniquely, horse racing is a sport that really couldn't and wouldn't exist without people being able to bet on the races. It's a sport that people don't tend to watch or enjoy unless they have had a bet on the race.
Online horse betting opens up the sport to a whole new audience. With legal horse betting sites now available in many states, you can bet on horses at home and watch the race on your own TV. Or use a sportsbook app on a mobile device and place a bet while on the go, or while watching a race from a bar.
Betting online is quicker, easier and more convenient than betting in person. Horse betting has taken a major step forward in the USA thanks to online sportsbooks.
The Biggest Horse Races in the US
Here are some of the biggest horse races in the USA.
Kentucky Derby
The only place to start… The Kentucky Derby is the highlight of the US horse racing year. Run on the first Saturday in May at Churchill Downs, this grade one contest features a $3m prize pool, with the winner receiving $1.86m. A relatively short race at one and a quarter mile, it's known as 'The Most Exciting Two Minutes in Sports'.
Breeders Cup
Held later in October or November, the Breeders Cup is one of the major events of the horse racing calendar. It changes venue each year.
Belmont Stakes
The final leg of the Triple Crown is the Belmont Stakes, held in June. Hosted at Belmont Park, Elmont, New York, few horses have ever entered this race with a chance of landing the Triple Crown, which has only been won by 13 horses in history.
Preakness Stakes
The Kentucky Derby forms part of the Triple Crown and the second leg, held on the third Saturday in May, is the Preakness Stakes. It's held at Pimlico Race Course.
Horse Race Betting Terms
The world of horse racing can be confusing for newcomers, with lots of unfamiliar terms to understand. We've compiled a glossary that explains the meaning of many of the words you'll come across in online horse betting.
Allowances
Adjustments in the weights allowed in a race. Allowances can be made when horses of different ages or sexes are racing against each other.
Backstretch
Straight section of the far side of the racing surface between the turns.
Blinkers
A device that a horse wears to limit their rear and side vision.
Chalk
The horse that is the favorite and running at the lowest odds to win.
Chart
A list of statistics about a race.
Closer
A horse that runs best towards the end of a race, often coming from behind to win.
Conditions
Requirements for horses to enter a specific race. Conditions could refer to age, sex, number of wins or amount of money won.
Dead Heat
A tie in a race between two or more horses.
Did Not Finish
A horse that failed to finish the race.
Eighth Pole
Green and white striped pole that indicates that the finish line is one-eighth of a mile away.
Far Turn
The turnoff from the backstretch into the homestretch.
Front Runner
A horse that prefers to run at the front of the field, ahead of the other horses.
Graded Stakes Race
Races are graded (I, II or III) to illustrate the quality and class of the horses running.
Length
The distance between horses during a race and at the finish line.
Morning Line
The odds before betting begins and the markets alter.
Nose
The shortest possible margin of victory by one horse over another, in a race.
Odds-on
When the return from a bet is less than the stake.
Photo Finish
When a race result is so tight that photographs have to be used to confirm the winner.
Quarter Pole
A red and white pole that indicates that the finish line if a quarter of a mile away.
Racecard
A document that lists the races and the respective name, age, and sex of each horse. Also shows past performances, name of jockey and trainer.
Scratch
When a horse is removed from a race before it is run.
Undercard
Less important races that precede a major race.
Horse Betting Online FAQs
How does horse betting work?
You bet on a horse that you think will win the race, or finish in the top two or three. If they succeed you win money. Should they fail you will lose your stake.
Is horse betting illegal?
No, horse betting is not illegal. You can bet at the racetrack or a casino, while many states have now legalized online betting. With an online sportsbook account, you can bet on horse racing from your home computer or mobile device.
What is the best bet in horse racing?
In terms of increasing your chances of winning, the best bet in horse racing is a show bet. With a show bet you will win if your horse finishes either first, second or third, which greatly increases the hopes of seeing a return on your bet.
What are the different types of horse bets?
The three most common type of horse bets are straight win (your horse must finish first), place (your horse must finish first or second) and show (your horse must finish first, second, or third). Other popular bets include extacta, trifecta, quinella, double and parlays.