Sweepstakes Casino and Sweepstakes Poker Sites
Enter the world of sweepstakes casino and sweepstakes poker sites with our expert guide. We show you how to play poker online and the latest slots using a unique form of currency: Gold Coins. Use coins to win Sweeps Cash and convert it into cash prizes. Best of all, it's completely legal in the US. We'll show you how to get started in the world of gaming and poker sweepstakes. Sign up to our top poker and online sweepstakes casino sites today.
Sweepstakes Casino and Sweepstakes Poker Sites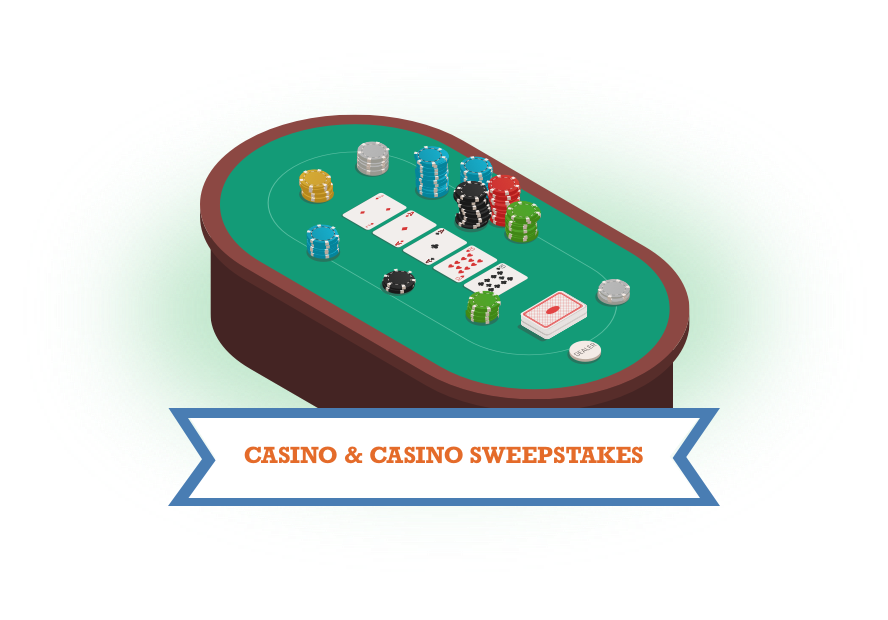 ---
What are Online Sweepstakes Casino and Sweepstakes Poker?
At a sweepstakes casino, you can play slots and table games, just like at a real money casino. The difference is you gamble with virtual currencies called Gold Coins and Sweeps Coins.
Sweeps Coins are given away in social media promotions, but you can also purchase free-play Gold Coins using your credit card. You can also use coins to play at sweepstakes poker sites. The difference with traditional gambling sites is that you don't make deposits. Sweepstakes casino sites work like social casinos that only use virtual currency. To redeem coins and make a cash withdrawal, you must accrue at least 100 Sweeps Coins through gambling
Are Sweepstakes Casinos and Poker Sweepstakes Legal?
In 2023, sweepstakes casino games and online poker are legal across the United States, but Washington and Washington DC still prohibit them. Sweepstakes are regulated in individual states. You must be 18 or over to play them although some states prohibit play under the age of 21.
Currently, the online sweepstakes model is only used by a handful of social casino and poker sites. We expect sweepstakes to grow in the US as they don't conflict with existing gaming laws.
Sweepstakes poker sites and casinos are great alternatives to traditional online gambling websites. You don't have to make deposits or store card details, and you can win real cash in your bank account.
How do Sweepstake Sites Work?
Sweepstakes work like social casino and poker games that use virtual coins instead of real money.
The unique sweepstakes model works like this. First, you purchase Gold Coins, which act like virtual chips to use in poker and casino games.
Gold Coins (GC) are used to play poker tournaments, cash games or casino games. You can't redeem Gold Coins for real cash.
That's where Sweeps Coins (SC) come in. When purchasing Gold Coins, you may also be awarded free Sweeps Coins. Sweeps Coins can also be awarded through social media promotions.
You use either Sweeps Coins or Gold Coins to spin slots or play poker games online and can switch back and forth between which currency you decide to play with. When you hit a winning slot spin only using SC, you win extra SCs which can be redeemed later for prizes. Each game acts like a mini-sweepstake where you share a portion of each entry when you win a blackjack hand, roulette spin, or poker hand.
Sweepstakes Games in 2023
You can play dozens of games at an online sweepstakes casino or poker site.
At an online sweepstakes casino, you will find many games typical of a regular online casino. You can try out video slots with bonus features, play blackjack, roulette, or video poker.
Most online slots at sweepstakes casinos have 5 reels, but some come with 243 ways to win for bigger action. You can spin the reels from just 0.01 Gold Coins. Win free spins, hit wild symbols, or even trigger a progressive jackpot for a massive prize.
At sweepstakes poker sites, you can play fun Gold Coin games or enter Sweeps Coins games. Gold Coin tournaments only reward Gold Coins, while Sweeps Coins reward Sweeps Coins.
Sweepstakes poker sites usually focus on Texas Hold'em. You can play 6-Max or full-ring tournaments for buy-ins as low as GC550. Many tournaments come with guaranteed prize pools attached. You can even enter major championships that give away millions of Gold Coins in prizes.
There are a few ways for new players can earn a few Sweeps Coins to play such as promotions or by mail in request. Sweeps Coins can be used to play 'cash games' or Hold'em tournaments where you can win more Sweeps Coins that can be later exchanged for prizes.
Texas Hold'em isn't the only game available at poker sweeps sites. You can also jump into Omaha ring games or tournaments to enjoy the 4-card Hold'em variant.
Real Money Sweepstakes Coins vs Free Coins
Sweepstakes sites use two types of currency: Gold Coins and Sweeps Coins. You can purchase Gold Coins (GC) using a debit or credit card. Gold Coins are used to play social casino games and poker.
When you purchase Gold Coins, you will be awarded Sweeps Coins (SC) relative to the number of GCs you bought. You can also earn free SCs by sending a letter through the post to the casino or poker site, verifying your account details, or entering competitions on social media channels. Multiple requests can be sent in by post but only one request per envelope will be accepted.
Sweeps Coins can be used on separate contests to win money and other prizes. You can use SCs to enter drawings for merchandise, prizes, or cash pay-outs. Sweepstakes casino sites bypass existing gambling laws by using state sweeps laws. Every game is a type of mini-sweepstake rather than a traditional casino game. You can only win a portion of the total stakes gambled on the game.
Other Sweepstake Facts
Many sweepstakes poker sites and casinos offer new player promotions. You can enter a poker freeroll and earn a share of SC1,000, or enter special poker tournaments and earn a slice of a big guaranteed prize pool.
Earning real cash for winning at a slot or casino game is exciting. It's important to understand the limits, however. Typically, you will have to win at least 100 Sweeps Coins to redeem them for US dollars.
You will still have to verify your account to redeem Sweeps Coins for cash prizes. This involves sending a copy of a primary photo ID like a passport or driver's license.
Most poker sweepstakes and casino sweeps are subject to charges. Gambling sites may charge a fee when you redeem at least $100 of Sweeps Coins.
Redemption values vary from state to state. For example, in Florida and New York, you can only redeem up to $5,000 on a single play. You must also declare any tax owed on winnings from your sweepstakes.
Play Online Sweepstakes Casino Games Today
You can now play at a legal online sweepstakes casino in the USA. Try your luck at the latest 5-reel slots or play blackjack and beat the house. You can also play exciting Texas Hold'em and Omaha tournaments without risking real money.
Real money sweepstakes casino games and poker are completely legal across the US. Sign up at one of our exciting sweepstake sites today.
Poker Sweepstakes and Sweepstakes Casino FAQs
What are sweepstakes machines?
A sweepstakes machine is a slot machine that is used in sweepstakes parlors. These parlors run a contest that awards prizes or cash to a player who has paid an entry fee. The legality of sweepstakes parlors is questionable in some States, unlike Sweepstake sites.
How do you win a sweepstakes game?
To play online sweepstakes, you purchase Gold Coins. These are used to play table games, slots, or poker games for fun. You will be awarded a small amount of Sweeps Coins with your purchase of gold coins which can be used in Sweeps Coin only games. Winning in Sweeps Coin only games award more Sweeps Coins which can be exchanged for prizes.
How do sweepstakes work?
Sweepstakes casino games are like free-to-enter competitions where prize money is divided among winning players. Prizes are awarded relative to the number of players who have staked Sweeps Coins on the game.
Can you cash out Gold Coins at Global Poker?
Gold Coins can't be redeemed for real money at Global Poker. Instead, you can win using Sweeps Coins which can be used to play tournaments and cash games. You can win more Sweeps Coins and redeem them for prizes.
Can I withdraw money from my sweeps account?
To withdraw cash, you must first verify your account. You will need to supply a copy of a passport or driver's license to confirm you are over 18. You may also have to provide a copy of a recent utility bill. You can then withdraw real money to a checking account or debit card.
Can you turn Gold Coins to sweeps cash?
No. Gold Coins have no monetary value. However, you may be awarded Sweeps Coins relative to the number of Gold Coins you have purchased. You can also win Sweeps Coins by requesting them by mail or entering a social media competition.