Different Types of Sport Bets
Sports betting is a great way to jump into the world of wagers. With some many types of bets out there, you need to know what you are doing before you lay down any money. If understanding different kinds of betting is a goal you have, you are in the right place. Below we look at the most common types of bets and how you can use them.
Different Types of Sport Bets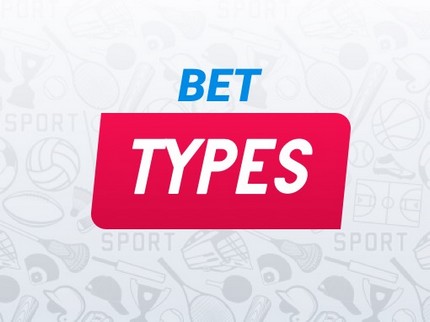 ---
Moneyline
One of the easiest types of sports betting to master is the moneyline. Here, you are betting on a team to win outright. The simplicity of this bet makes it great for first-time bettors. This type of bet is very common for baseball and hockey, though you can often find moneyline bet options for all major spots.
You can make some great wins if you successfully make a moneyline bet on an underdog that ends up winning. Betting on the favorite is an option but you won't see as good odds. You will have to lay down more in the initial bet to see a decent profit.
Spread
A spread bet is one of the types of betting that might seem complicated to a first-time bettor. They are frequently offered for sports like football and basketball. These types of sports bets benefit the sportsbooks but there is no reason why you as a bettor can't take them on.
This style of bet sees sportsbooks attempt to "level the playing field" by taking the various skills of each team into account to offer better odds.
Imagine that New England Patriots are taking on the Baltimore Ravens. The Patriots might be considered the better team for the match and they are predicted to win by 5 or more points. The point spread might, therefore, be -5.5 for the Patriots and +5.5 for the Ravens.
In this scenario, you are betting that the Patriots are going to win by 5.5 points. You will lose the bet if the Patriots lose the game or if they win by 5 or fewer points. You win if they win by 6 or more points. However, the beauty of the spread bet is that you can also bet that the Ravens will either win outright or lose by less than 5 points.
Spread bets might be one of the more complicated types of sports betting but they can offer great returns for players willing to take them on.
Over-Under
The over-under is a bet on the combined points of the game. It is another easy to understand sports bet you may want to try. So, in our hypothetical Patriots-Ravens game, the over-under is 47.5. This means you need both teams to score a combined total of 48 points or more for the over or 47 or less should you opt for the under.
One of the best parts of the over-under bets is that you don't have to root for either team for the result. If you keep a close eye on the NFL or college football as a whole, instead of just your chosen teams, you might like to run with a few over-under bets even if you aren't emotionally invested in a game. Many die-hard fans choose to bet overs on their team no matter what. Having a level head and analyzing the game as a whole might reveal some instances where the under is the better bet.
Proposition
Proposition bets (sometimes referred to as prop bets) are just a bit of fun. They are frequently used for big events like the Superbowl. From who will win the coin toss to the player who makes the first fumble, there is any number of prop bets you could come up with.
They might not make you rich, but they are one of the most fun ways to bet on sports. Next time a big event is rolling in, be sure to check out some of the prop bets one of our recommended sportsbooks are offering. There will always be a chance to bet on a silly statistic that might have very little impact in the game and your further bets overall.
Parlay
The parlay is one of the more difficult types of bets to win. If you are going to score with a parlay, you need to win multiple bets together. You can bet on 2 or more teams or games and the more you bet, the more you could win.
For example, you might decide to pick up a 2-team parlay with the Atlanta Falcons at -3.5 and the Tampa Bay Buccaneers at +6.5. You need to win both these bets to cash out on the overall parlay. The odds offer you a better payout for more bets, but these become increasingly difficult to win. It only takes one missed bet to lose the parlay overall.
Teasers and Pleasers
Teasers and pleasers are similar to parlays. The teasers are easier to win and therefore payout less. The pleaser is the opposite; more difficult to win but offering much higher payouts.
A teaser will see you move the spread of each game increased or decreased to create a bet that's more likely to win. A pleaser is an exact opposite and the bets will become much more difficult to win.
Future
Some types of sports bets take a while to play out. That is definitely the case with the futures bet. This is more of a long-term investment as it can take months for all matches to play out. Futures are basically predicting the overall result of a competition before it is completed.
For example, at the very start of the season, you might decide to place a future bet on the final outcome. Who will appear at the Super Bowl? Which team will win the MLB World Series? These are all future bets you could make that will earn you a killing should they win.
In-Game
In-game betting is also referred to as live betting. This modern phenomenon allows you to make bets as the game is on-going. A sportsbook will offer odds before the game, but they will also change them as the match plays out.
The underdogs might take an early lead, or the star player might get injured and dash any hopes of success. Keeping an eye on the in-game odds might allow you to score a better deal than you would have if you'd laid down your money beforehand.
How to Choose the Right Bet Type of Bet
So, how do you know which types of bets are right for you? As a first-time bettor, it can be a little overwhelming to know precisely which market or type of bet to choose. Some bets are easier to call, like the moneyline or the over/under.
When making one of these bets, it won't be long before you know the outcome. The over/under is also a great option as you can practice this bet across some games that you otherwise would not care about. Future bets are harder to predict, as so much can change in the course of a season, but they can offer some astounding payouts when you get it right.
A spread is probably one of the harder ways to bet on sports at first, but it can offer some fantastic odds when you do master it. Likewise, a parlay or a teaser/pleaser will give you some variety to work with. Whether you want to take a low-odds parlay, an easy teaser or throw down the gauntlet with a pleaser, the choice is yours.
However, you need to make sure that you have a basic understanding of what is going on in the sport at the same time. Researching the market you want to bet on is key. Making informed bets is critical to having success.
If you have a passion for your chosen sport – be it football, basketball, or anything else – every twist and turn in the season is going to benefit you. By knowing how the leagues are shaping up, you will have a greater insight into the types of bet you should be choosing.
Understanding different kinds of betting is easier than you may have first thought. Armed with this guide, you are now more than ready to place your first bets. Take your knowledge to one of our recommended sportsbooks below and start betting today!
Different Types of Sports Bets FAQs
What are the different types of bets?
Popular bet types include moneyline, spread, props, over/under, parlays, teasers, pleasers and more. We've gone into detail about each one above.
What is a good bet?
A good bet is where you find value. Value means identifying odds from a sportsbook that are not accurate and taking advantage of them by making a bet.
How do sports bets work?
Simply, a sportsbook offers you odds on whether something will happen, for example Miami Heat to win at +120. If you bet $100 on the Heat to win and they do, you win $120. If they lose, you lose $100.
What is the best football bet?
The most common bets on football are on the spread. Here you pick a team to win with a points handicap or boost added to their final total e.g Kansas City -7. If they still win after the 7 points have been deducted, you win your bet.