Live Betting 2023 – Expert Guide
Live betting has become a crucial part of the gambling industry. The ability to bet during sporting events as they happen has opened up new avenues for bookmakers and customers alike. On this page we'll provide you with expert advice and to arm you with all the information that you need to know before you start live betting.
Live Betting 2023 – Expert Guide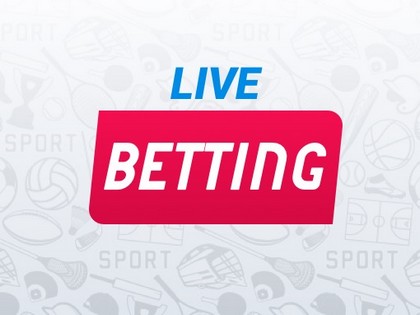 ---
What is Live Betting?
Sportsbooks realized that thanks to technology, they could offer their players a much better experience for action during games – rather than just waiting for the final outcome. Now there are a variety of live betting markets to choose from for all sports across the United States.
There was a time when you had to get up off your feet and head down the betting shop to place a bet. You could only wager on events before games took place and those bets were locked in until the conclusion of the action.
Then along came the internet to revolutionize the way in which people place bets on sporting events. With customers using their computers and later their mobile devices there were no longer parameters on location or times to place bets.
Live betting can be based on the outright result, players, points scored, range from minute-to-minute or by quarters or periods. Nowadays you can bet on almost any incident in a game on prop bets, especially during major events such as the Super Bowl or NBA Finals.
All the information is there in front of you whether you're at the casino or using a mobile device, with odds changing to reflect what happens in the game.
Live betting is the most intense and exciting form of gambling on sports, with the result being played out almost instantaneously. There's no waiting around at the end to see whether your punt has come in and it's a good way to make a profit if you know what you're doing.
Understanding Live Betting Odds
Live betting odds are easy enough to understand for beginners. Unlike traditional betting where there will be a fixed price for a period of time, live betting odds are in flux based on the context of the contest.
For example – the lines ahead of an NFL game will not move a great deal during the week before kick-off bar an unexpected injury or a suspension.
A bet on the New England Patriots at -500 to beat the Miami Dolphins would not move based on the difference in the quality of the two teams. However, with live betting, that line can be flexible.
As the 2019 season proved, the Patriots were down 7-0 to the Dolphins and were struggling to make a comeback. It could lead to the line being shift down towards -350 and that is where you can make good money if you know the sport well enough to understand the ups and downs.
A bet on the Patriots before the game worth $100 would only yield a $20 return and your stake if they won the contest.
However, by waiting for the game to play out and utilizing the live betting odds, the price of -350 and a $100 bet yields a slighter better profit of $28.67 if the Patriots made a successful comeback.
Understanding that the lines are in constant flux and knowing when and when not to make a live bet can make all the difference.
It's not just results markets that are affected by live betting. Player and points markets are a key part of in-play betting too. Knowing a team can score in bunches in an NFL game can make all the difference, as the Kansas City Chiefs proved throughout their run to the Super Bowl in 2023.
Betting the over on the Chiefs to score 21 points in the fourth quarter against the San Francisco 49ers in Super Bowl LIV would have presented a high value. Watching the game and being aware of the live betting odds is important.
The Chiefs had to score points and quickly. A knowledgeable fan would know that and could have made a significant profit watching Patrick Mahomes go to work in Miami.
Live Betting Apps
One of the most important aspects of live sports betting is to use a sportsbook that has a quality betting app for mobile and tablet. Given that prices will be changing regularly, you need to find an app that is compatible with your device and ensure that you will be able to find all the relevant odds for your chosen game.
You don't want to be scrolling through different menus during a live sporting event to place a bet. A good sportsbook will have all the options readily available, while the odds should be easy to follow as they change throughout the game. Knowing the layout of the app page is also crucial to quickly access it in order to make the bet you want to.
All of our recommended sportsbooks have different apps. Pick the one you like the look of and try using it before committing a serious deposit. Only then will you be ready to use live betting on a regular basis.
Live Betting Strategy
You should always have a strategy in place for your bets to ensure you're not just handing money over to a book. Knowing the sport you're betting on is the top priority.
If that is the NFL, NBA, MLB, NHL or something else, a base knowledge can be useful, but familiarising yourself with all the teams and players as well as their form and injury history will give you the best chance of success.
You do not want to enter the live bet by lining a wager on the Kansas City Chiefs and finding out that Patrick Mahomes is not playing. You always have to look for an edge over the bookmakers and using knowledge of circumstances can be vital.
For example, LeBron James could have odds to score over 30 points in a game towards the end of the NBA regular season for the Los Angeles Lakers. However, Los Angeles have already booked their spot in the post-season and are locked into the number one seed.
LeBron's odds to score over 30 points may range before the game at -110 and the under could be a not too dissimilar value at +100. He might have a strong start to the first quarter scoring 15 points that knocks the value of the over well down, while the under shoots up towards the +500 range given the likelihood that he will score over 30 points.
Preventing an injury or resting LeBron would be on the agenda for head coach Frank Vogel, especially given that the Lakers' job is done, for now, they are already in the playoffs. It would be well worth considering that LeBron would not get to 30 points given the circumstances and to place a wager on the under. Even a $20 wager on +500 would earn a $100 profit.
It pays to be mindful of the sports you're betting on, gaining all possible information on the events before they occur so you can be ready to profit when live betting.
Important Things to Consider When Betting In-Play
Knowledge – It's vital to go into live sports betting with knowledge of the game you're betting on as well as the teams or players involved. As previously mentioned, it can provide you with the upper hand when choosing your bets and finding value.
Limits – Don't get carried away with any success when betting on events, while the same can be said for missing out. Setting a limit on how much to spend while watching the game ensures that it remains a fun activity rather than one that can end on a sour note.
Live Betting Apps – Choose a sportsbook with the best app that allows you to move seamlessly through live betting events and find markets with ease. You do not want to be struggling to navigate around the app while trying to quickly place a bet on an event.
Odds – Understand that the odds in live betting that will fluctuate during the contest. They will be on the move throughout the game so keep an eye on them to spot where you can find the best value.
Value – Find the best value within the betting odds. Choosing which sportsbook to use can make all the difference. As with anything in life you always want to get the optimum price so you're not paying over the odds.
Choose from our list of top sportsbooks below that all have excellent odds for live sports betting. Sign up today to receive your welcome offer.
Live Bettimg FAQ
What is a live bet?
A live bet is a wager that you place with a sportsbook during a live sporting event.
Is live betting good?
Live betting is one of the most exciting forms of online gambling. It provides you with the opportunity to wager on sporting events as they happen in real time. Odds fluctuate as the action unfolds to reflect the context of games, giving opportunities for you to earn a profit.
How do I win a live bet?
Winning a live bet is the same process as a normal wager. You place a bet on an outcome that is currently taking place in the contest and if you're proven to be correct, you earn a profit from your stake.
What is in-play?
In-play or live betting is a wager that takes place during a live sporting event. You pick a market to bet on during the game with odds that are in changing depending on what happens in the contest.