Moneyline Betting Explained
Moneyline bets are the simplest type of wager in online sports betting. Betting on the moneyline involves a single outcome on one game or match. There is no complicated spread involved, and you can even merge multiple moneyline bets on one slip. On this page, you will find a full lowdown on how to place a moneyline bet.
Moneyline Betting Explained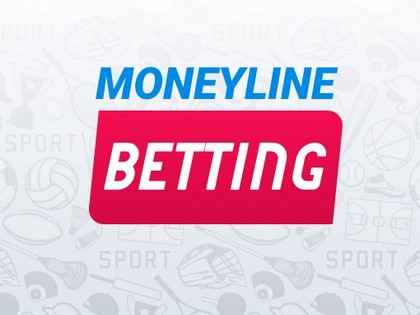 ---
What is Moneyline Betting?
Moneyline bets are wagers on a sports team or individual to win a game. Every legal US online sportsbook can now accept moneyline wagers after the laws were changed in 2018.
The moneyline is one of the most popular forms of online sports bets. It's easy to understand and you can even combine multiple selections into a "parlay" to win more.
When betting on the moneyline, it's important to understand how the odds are displayed. One team or player will be the favorite and the other the underdog. The odds for the favorite will be displayed as a negative (e.g. -110), while the underdog's odds are displayed as a positive (e.g. +240).
The numbers next to the minus (-) when you bet on a favorite shows how much you need to bet to win $100.
For example, the -110 bet above means if you bet $110, you would win $100 (and have your initial stake of $110 returned too).
The numbers next to the plus (+) show how much you would win if you bet $100 on the underdog. Again, using the example from above, if you bet $100 on the +240, you would win $240 (and have your initial $100 stake returned).
Betting on the moneyline usually involves 2-3 outcomes, depending on the sport.
Game between two teams: You can bet on the home team to win, the away team to win, or a tie (not including overtime).
Example: Detroit Pistons are taking on Orlando Magic in the NBA. The Pistons are +260 and Orlando Magic are -330.
You can bet the moneyline on the Pistons to win the game. For a $100 bet, you can win $260. To bet on Orlando Magic, you would win $100 in return for a $330 bet.
The tie is priced at +2800.
Game between two individuals: You can bet on either player to win.
Example: Deontay Wilder is fighting Tyson Fury in the night's big boxing bout. You can bet on Wilder to win outright at -105, choose Fury at -110 or back the draw at +2000.
How to Place a Moneyline Bet
Moneyline bets are simple and easy to understand. There are no point spreads involved, and bets take seconds to make. Here's a step by step guide to making moneyline bets.
Browse the lobby for your bet selections
All good US sportsbooks offer thousands of markets on sports like basketball, football, and hockey. Sign up, create an account and find the sport you want in the drop-down list. Alternatively, hunt for popular markets on the main lobby page.
Click on your preferred outcome
Find the sport you want, and the game you want to bet on. Oftentimes, you can hunt for markets by date or competition. Click on the moneyline odds and the selection will appear on your virtual bet slip.
Fill your betslip
You can continue to add more moneyline bets by clicking on the odds displayed. The betslip will show all selections, together with the odds and your potential winnings for a $10 stake. You can adjust your bet size using the box provided.
Make your bet
Once you've settled on a stake size, click on the 'Place Bets' button. Most online sportsbooks accept minimum odds of $0.25. You must also have enough funds in your sports betting account.
Cash Out early
Some moneyline betting markets make it possible for you to cash out some of your winnings. With a Cash Out bet, you can settle the wager early and take a smaller jackpot. Wagers with Cash Out allowed will be clearly displayed on your bet slip.
Parlays and Systems
It's easy to place a single moneyline bet. But you can also combine multiple selections into a parlay. A parlay has a higher payout as you are multiplying the odds of several moneyline bets together for several outcomes.
Most bet slips also let you bet on systems. Start by selecting a few moneyline bets. A system then lets you bet on different permutations of your selections. For example, you can pick three moneyline results and combine them into three separate wagers:
System (any 2 from 3)
Trixie (3 doubles and a treble)
Patent (3 singles, 3 doubles, and a treble)
Popular Sports for Moneyline Betting
Now that you've had moneyline betting explained, it's time to find a sport to bet on. It's good moneyline betting strategy to carefully choose sports to gamble on. We also recommend you open multiple sportsbook accounts so you can find the best odds.
Moneyline Betting on the NFL
You can place moneyline bets on the big Sunday games or back the outright winner of every conference. Look out for Superbowl specials from the online sportsbooks too. Many sportsbooks boost their moneyline odds for the big game.
For individual NFL games, you can back moneyline odds on game-winner, winner of 1st quarter, or winner of 1st half.
Moneyline Betting on the NBA
All legal US sportsbooks carry odds on every NBA game. Typically, you can back the full-time (FT) moneyline result or bet on the moneyline for 1st half winner and 2nd half winner.
Moneyline Betting on the MLB
Betting on the moneyline is simple in baseball. All you have to do is choose which team you think will win outright. You can also back outrights on the MLB winners months before the season even starts. Other baseball outrights include the National League pennant winner and American League pennant winner.
Moneyline Betting on the NHL
Ice hockey is one of the perfect sports for three-way moneyline betting as a tie is not uncommon. So, it really is simple. Just choose the home team, away team or the draw.
Moneyline Betting on soccer
Soccer is a popular market for betting on the moneyline. The soccer moneyline is also called 1X2, denoting Home Win, Draw, and Away Win. A strong home favorite will have negative moneyline odds, the away underdog will have positive odds, and the draw will fall somewhere in the middle.
Example: Liverpool are top of the English Premier League and are playing bottom side Norwich at home. Liverpool are heavy favorites at -450, while Norwich are +500. The draw is +400.
To win $100 on Liverpool, you would have to bet $450. You could win $500 on a Norwich victory for a $100 bet. And you could win $400 on a $100 if the match was drawn.
Moneyline Betting on golf
Online sportsbooks offer hundreds of markets on golf tournaments around the world. You can bet outright on the winner of the event, but most tournaments also have moneyline bets.
You can bet the moneyline on individual matches and depending on the format, who will get the lowest score or win more holes. There are also moneyline bets on the 4-ball and matchball markets.
Moneyline Bets FAQ
What does a +200 moneyline mean?
A bet at odds of +200 would mean a $200 win for a $100 stake. The positive odds also represent an underdog.
Is the Moneyline a good bet?
Moneyline bets are easy to understand and carry the lowest risk. You can also find value in moneyline betting by comparing odds at multiple sportsbooks.
Can you make money betting the moneyline?
Yes. Over the long term, you can turn a profit consistently backing the favorite on the moneyline markets. You can also hedge your bets by hunting out the best odds at different sportbooks.