Hedging Bets Explained
Hedge betting is used by experienced gamblers who want to guarantee a profit regardless of their bet. With hedge bets, you place wagers on one or more outcomes in a way that you will always lock in a profit. It takes a lot of research, but hedge betting can be beneficial to your bankroll long term. On this page we'll show you how to hedge a sports bet with some real-life examples. After we've explained hedge betting, you'll be ready to give it a shot.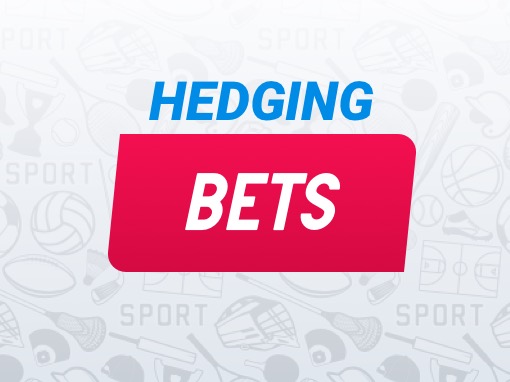 ---
What is Hedge Betting?
Hedge bets are wagers that guarantee a profit, whatever the outcome of the game. They are like insurance mechanisms that make it impossible to end up losing.
Essentially, hedging your bets involves putting down two wagers. The first bet is on an outcome, such as a team to win an NHL game. You then place a second bet on the opposing team when the odds are favorable which makes it impossible to lose.
You can also hedge your bets at an online betting exchange. A betting exchange lets you lay bets as well as back them. By laying a bet, you are backing a team to lose. And if you use a hedge calculator, you can quickly work out how much you need to lay in order to cover your initial bet.
How to Hedge Your Bets
Hedging a bet takes practice, and there are several ways you can do it. Here are three classic examples of making a hedge bet.
Example 1: Using a betting exchange
Betting exchanges are beginning to appear in the US. At one of these online exchanges, you can lay off a bet, betting against the final outcome. You can also use a hedge calculator to automatically work out how much you should lay in order to guarantee a profit.
Before the season begins, you back Liverpool at +340 to win the English Premier League. If you bet $500 and Liverpool won, you would bank $1,700 in profit.
As the season progresses, Liverpool go into a huge lead at the top of the table. By spring, they are as low as -125 to win but have jumped to +340 NOT to win the league in a lay bet.
You can now bet another $500 against Liverpool winning and still guarantee a return. If they don't win the league your 2nd bet will profit $1750
Hedging a bet does mean you end up with a lower profit as you have made two wagers. If we hadn't hedged, and Liverpool win the league, we win $1,700. Our profits drop to $1,200 because of the second hedge bet.
Over time, hedge betting is a good way of minimizing long-term risks.
Example 2: The futures bet

The futures market is a great place to make hedge bets. You can make a wager many months before an event, like the winner of the World Cup or the next year's US Open.
If you are clever with your futures bet, you can lock in a profit with a moneyline bet when it comes to kick-off. Here's an example:
Before the NFL season starts, you bet on the Kansas City Chiefs at +700 to win the Superbowl months ahead of time.
The Chiefs make it to the final to take on the San Francisco 49ers. The 49ers are +250 to win the game. You can now bet on the 49ers to win the game too, knowing you will win money either way.
Let's say you bet $100 on the Chiefs. You stand to profit $700 if they win.
The day before the Superbowl takes place, you bet $200 on the 49ers to win @ +250. If the 49ers win, you will profit $500.
If the Chiefs win, your overall profit will be $500 ($700 for the Superbowl win minus your losing $200 bet on the 49ers). If the 49ers win, your profit will be $400 ($500 minus your losing $100 bet on the Chiefs).
Example 3: In-play betting
Hedge betting is great for in-play. In-play betting lets you place wagers as a game is happening. The odds fluctuate as the action unfolds.
Tennis: Wimbledon final
You place a $1000 bet on Roger Federer to win the Wimbledon final at +110. Novak Djokovic is the favorite at -110. You stand to win $1100 profit if Federer wins the match.
Novak Djokovic takes the first set on a tiebreak. The in-play odds shift, Federer is now +150 to win. Federer then takes the second set 6-1, and he's looking good. The bookmaker shifts the odds in Federer's favor and he's -110 to win. Suddenly, Djokovic is priced at +120.
The third set goes to a tiebreak, and Federer is looking like taking the set. Djokovic's in-play odds move out to +170 and you decide to place your second bet. You place another $750 on Djokovic.
Regardless of the outcome, you guarantee a $275 profit for a Djokovic win or $350 for a Federer victory.
Adjusting the hedge: In all our examples, it's important to understand adjust hedging. You need to adjust your stakes to minimize the risk of one of your bets not coming in.
In our Superbowl example, we are betting a lot of money in order to guarantee a profit. It's a lot of outlay, but the returns are locked in. And if you adjust your hedge too much, you may end up losing money.
You can also use an online hedge calculator to work out what your stakes should be. Betting calculators will also factor in any commission taken by the bookmaker.
Hedge Betting Strategy
You know how to hedge your bets, now it's time to implement some strategy. You don't need to be a professional gambler to hedge bets, but these simple tips will help you in the long run.
1 – Bet on futures
Future markets are great for hedging a bet. Futures usually have the longest odds and bookmakers find it difficult to price up markets many months in advance.
But futures are perfect for finding value, especially if your pick does well over a season. An underdog might have an amazing season, and the odds of them winning will drop.
If it comes down to a two-horse race between the hot pre-season favorite and your underdog, you can hedge your bet by backing the favorite.
2 – Use the cash out during in-play
Odds change massively during an in-play market. Make use of the bookmaker's match tracker to follow the action. You can then assess whether an in-play bet is worth taking.
The beauty of in-play betting is that you can also cash out your winnings before the game ends. You have locked in a guaranteed profit without waiting to see how the game finishes.
3 – Use parlay bets
Parlay bets combine multiple single bets into one wager. If every leg of your parlay comes in, you win. The odds and payouts for parlays are much higher than for just one straight bet.
Parlays are great for hedging bets. Let's say you make a 5-leg parlay and the first 4 results win. Your returns will be good if the fifth leg wins. But the odds will be big enough to allow you to make a hedge bet on the opposite result for your fifth leg.
4 – Understand arbitrage
Arbitrage, or arbing, is the act of hunting out different odds on the same game. Imagine one bookmaker has priced the San Francisco 49ers at +150 against the Chicago Bears at -110 in a big NFL game.
Another sportsbook, however, has contrarian prices. They go -110 on the 49ers and +200 on the Bears. You can now place a bet with both bookmakers on both teams to win.
Savvy professional gamblers will hunt out arbitrage by studying dozens of sports betting sites. Gamblers also use betting exchanges to lay off their bets. At exchanges, you can lay bets, betting that a team will lose instead of win. If you backed the same team at a sportsbook to win, you can guarantee a profit whoever wins.
5 – Open multiple sportsbooks accounts
Hedging a bet is about finding opportunities wherever you can. Opening several sportsbook accounts is a good hedge betting strategy as it gives you hundreds more markets to choose from.
You can place a bet at one online bookmaker and hedge the bet at a completely different bookie.
Hedge Betting FAQ
Should you hedge your bets?
Hedging bets is the best way to minimize risk and help to guarantee a profit. Hedge betting requires more attention than making a bet and letting it ride.
Is hedging illegal?
No. Hedging a bet is completely legal. All you are doing is helping to ensure a return on your wager.
Can you make money hedging bets?
Yes. Hedge betting is most profitable if you have backed a big underdog who performs well against the market.
When should I hedge my bets?
Knowing when and how to hedge your bets comes down to research. Place a future wager, then hedge the bet on an in-play market when the odds have changed.