Teaser Betting Strategy
Teaser bets are a type of parlay made up of several point spread selections. You must select at least two legs to qualify for a teaser, but you get to move the point spread before making your wager. This gives you more choice and sportsbooks will adjust their odds accordingly. Keep reading our expert guide to understanding teaser bets and discover the best ways to bet the point spread.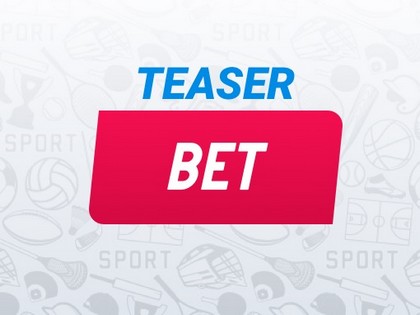 ---
What is a Teaser Bet?
A teaser bet is similar to a point spread bet where teams are given a point/goal boost or reduction before the game starts. The beauty of teaser bets is that you are in control of the spread and how big or small the handicaps or bonuses are.
Teasers work like parlays. Parlays are where you combine multiple bets together to form one overall bet. If one part of the bet loses, the parlay does.
To create a teaser, you must select two or more legs from the point spread market. When you select the teaser option, every team in your parlay will have their point spread reduced.
For example, you select three point spread bets in a parlay. The odds for the parlay are +592. By choosing the teaser on the same parlay, the odds are reduced to +170. However, by reducing the spread you have a stronger chance of winning the bet.
How Does a Teaser Bet Work?
Teaser betting is great for gamblers who love point spread wagers. If you don't like the spread on offer, the teaser bet alters it for you. The odds will also change, but it can be lucrative in the long run. Let's explore how teaser bets work.
Example 1: NBA Basketball
You select three point spread outcomes on three NBA sides playing at home:
Orlando Magic -7.5 @ -111
Minnesota Timberwolves -8 @ -110
Utah Jazz -4.5 @ -110
3-fold (all three teams win): +592
The parlay pays +592 – this means you'd win $592 if you bet $100. Every team in your 3-fold must "cover the spread" and win by a greater number of points than the spread indicates. In our example, Orlando Magic start 7.5 points down. If they win by 8 points, your single bet would win. Similarly, Utah Jazz are -110 to win when starting with a 4.5-point handicap.
A teaser bet lets you move the point spread in your favor. You add the three selections to your bet slip and click on the Teaser option.
The spread drops 4 points so that Orlando Magic have a handicap of just -3.5, Minnesota -4, and Utah Jazz -0.5.
The total odds for a winning 3-team Teaser bet have also dropped, to +170. So, for a $100 bet, you would win $170. The odds have decreased significantly from the original parlay, but so have the chances of the bet going wrong.
The Best Sports for Teaser Bets
You've learned how teaser betting works, now it's time to choose a sport. Teaser bets are most commonly found in basketball and football, two sports where there are often large point discrepancies. Below are our top 5 sports for using good teaser betting strategy.
Basketball
Basketball has some of the widest teaser betting ranges at online bookmakers. Oftentimes, you can adjust the point spread from 4-16 points, and bet on 2-team to 11-team parlays.
Football
NFL teaser markets are attractive to gamblers too. You can use your teaser bet to adjust the point spread up to 19 points. The odds for an 11-team teaser with a 19-point spread adjustment can be -230 but is a good option for betting on favorites.
Teaser Payouts
Teaser betting is great if you find three big favorites in the point spread markets. Your returns won't be as high as if you had bet on the regular spread, but you have more control.
Most teaser bets give you a choice of options. In the basketball example we listed above, we can choose from the following:
3 Teams 4pt Teaser
Pays +170
Spread reduced by 4 points
3 Teams 4.5pt Teaser
Pays +150
Spread reduced by 4.5 points

3 Teams 5pt Teaser
Pays +130
Spread reduced by 5 points

Super Teaser 8pt Teaser
Pays -120
Spread reduced by 8 points
In the Super Teaser, Orlando (+0.5) and Utah Jazz actually have a points advantage. The odds-on payout reflects that.
If you pick a fourth team to win on the spread, you can bet on even bigger teasers. The Monster Teaser, or Sweetheart Teaser, for example, reduces the handicap of each team by 10 points. The parlay odds are adjusted after you add your extra bet selection.
Now you know how teaser betting works, it's important to choose the right bookmaker. Every US sportsbook online offers teaser betting, but the odds can vary from site to site.
One online bookmaker might offer +200 on a 3-team 4pt teaser, while another offers +180. This might not be a huge difference in a one-time $10 bet, but across the course of a season, it adds up. It pays to open multiple betting accounts so you can find the best odds.
Teasers vs Pleasers
Now that you have had teaser bets explained, let's look at pleasers. Pleasers work like teaser bets in reverse. They let you move the spread in the bookmaker's favor. As a result, you receive better odds than you would normally receive.
Most pleaser bets add 6 points to the spread. That is, the underdog will receive a 6-point addition to their spread. But if a 6-point swing still wouldn't win it for the underdog, the pleaser might be a bad bet to take.
The teaser works when you have overwhelming favorites. If you expect an NBA team to win by 10 points, you can afford to drop the point spread in your favor. The teaser bet still gives you good odds for the win, and you have increased your chance of victory.
The problem with teaser betting is that every leg in your bet must win. Even a push can derail your teaser, so it's good to choose legs that have a high probability of success.
Teaser Betting FAQs
Is a teaser a good bet to make?
Good teaser betting strategy suggests you should choose teasers involving just 2 or 3 strong favorites. The payouts won't be high but you can help to increase your overall chances.
What does a 2-team 7-point teaser pay?
The odds vary from sportsbook to sportsbook, but a 2-team 7-point teaser pays around -130.
How do you place a teaser bet?
To place teaser bets, first select two or more point spread selections from the lobby. In the bet slip, choose the type of teaser you want. You will have to select the number of teams in the bet, and the adjusted point spread. The odds will be recalculated accordingly.
Can you push a teaser bet?
Yes. Some sportsbooks remove the push from the teaser bet, but others treat the push as a losing leg.
What is a sweetheart teaser?
A sweetheart teaser is also known as a monster teaser. It adjusts the handicap on every team in the teaser by 10 points.