The Best Sports to Bet on in 2023
Find the easiest sports to bet on and make a profit with our expert guide. With our help, you can navigate the minefield of legal sportsbooks markets. Discover the most profitable leagues to bet on and find value by comparing different sports betting sites. There is a huge choice of sports betting markets available. We'll show you the best sports to bet on, from soccer and NFL to baseball and basketball. We'll even direct you to the top bonuses when you're ready to open an account.
The Best Sports to Bet on in 2023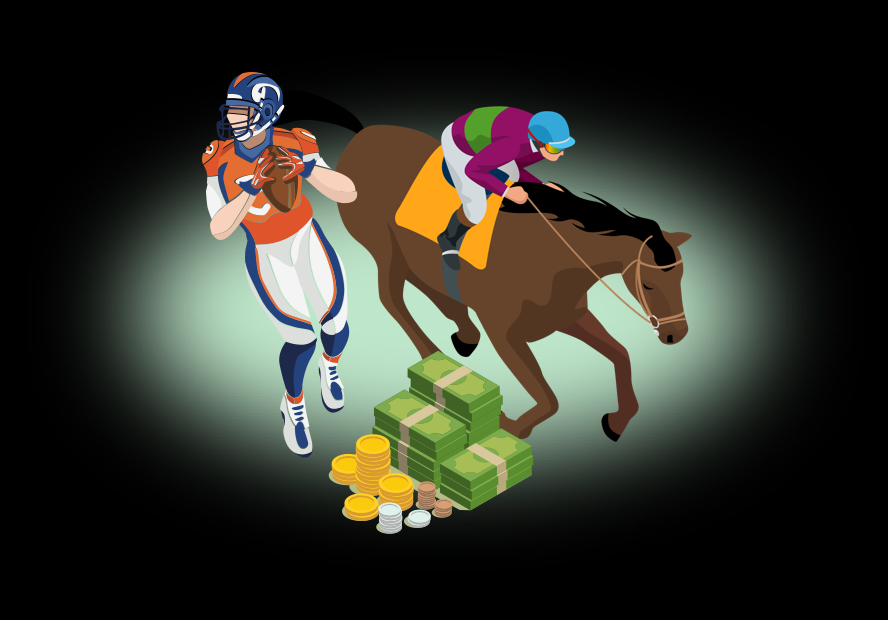 ---
The Most Profitable Leagues to Bet On
Nowadays, you can bet on a huge number of sports and markets. The big odds come in big-field outright bets like the winner of the Super Bowl or the next soccer World Cup champions.
Bookmakers' odds will often reflect the likelihood of an event happening. If the Canucks are 16/1 to win the NHL Stanley Cup, they are considered a long shot. The Bruins are priced at 8/1 and are considered the favorite. The more unlikely an outcome, the bigger your potential profit.
When hunting the most profitable leagues to bet on, you need to first choose the right sport, then the right league.
Finding Value in Online Sportsbooks
Look for niche sports and leagues where a bookmaker may not have as much in-depth knowledge. NHL, for example, is one of the major sports bet on in the US. However, bookies spend less time formulating their odds for NHL compared to baseball and football.
Soccer might not be as big in the US as it is overseas, but you can bet on virtually any world league at a legal bookmaker. You might find value in a soccer league in a small country like Sweden, for example, where the bookmaker may not have specialist knowledge.
You also need to find leagues that have a lot of games. NFL, for example, has fewer games in a season than a sport like baseball. That means the potential returns on NFL are high, but so is your margin of error. With baseball, you have more chances to win over the long-term, even if you hit a losing run mid-season.
College Football (NCAAF):
College football is one of the best sports to bet on. Since 2018, betting on college football has been legal in regulated US states. In New Jersey, however, you can't place bets on college games taking place in the state.
In college football, there isn't a huge difference between home and away advantage. Home advantage is hugely over-valued in college basketball, but the bookies' odds don't reflect that. There is profit to be had in backing underdogs in college football.
College football also features over/under bets. These are wagers on the total points in a game. Typically, US gamblers like to go big and bet on the over. After all, they want to see their team winning by a mile.
In reality, over bets are poor value. The bookmakers shift their odds to reflect the weight of money on an over bet. That usually presents the bettor with value on an under bet.
Example: Ohio State are playing Arizona Wildcats in the NCAAF.
The bookmaker sets the over/under on total points in the game at 48.5. So, if you bet Over 48.5 and the game ends 26-24 (total 50), you win. If the game ends, 20-18 (total 38), you lose.
The bookmaker is paying +105 on the under, meaning you win $105 for a $100 bet. They price the over at -110, meaning you have to bet $110 to win $100.
But checking the recent form, you notice that the last three games between these sides results in total points of 43, 37, and 40. You see there is value in the under price and take the bet
NFL:
Football is the most popular sport to bet on in the US. You can back a winner of the Super Bowl or one of the conferences. You will also find up to a hundred different markets on individual games.
But because the NFL is so popular, it attracts a lot of wagers. The bookmakers will alter their odds depending on the weight of money behind a team. And in NFL, most bettors love to back the favorite.
That's where you can pick up some profit. Do some research on the underdog and see if there's any value. The home favorite might have been hugely over-valued for a win.
College Basketball:
You can now bet legally on NCAAB games online or on mobile. Like college football, there is value to be had in backing away teams in NCAAB.
There isn't a big home advantage for college basketball teams, and you can find value among the markets. Also, look out for individual player markets like 'Most Points Scored' which can offer some value.
NHL:
With over 80 games in a regular season, hockey is one of the best sports to bet on. NHL games have over 100 individual markets to bet on. You can bet on the moneyline (game winner), winner of each period, or number of goals.
NHL is different to college sports in that the favorites regularly win. And you can find good odds on the puck line bet for a favorite rather than betting on the moneyline (to win the game).
The puck line is a handicap bet on the number of goals scored. The favorite receives a handicap of -1.5 goals. So, your bet is on that team to win when starting -1.5 goals behind.
However, the favorites in NHL oftentimes win by a margin of 2 or more goals. That's why the puck line bet is so good.
Soccer:
The biggest US sportsbooks offer bets on soccer leagues at home and abroad. You can bet on outrights and futures for the MLS (Major League Soccer), English Premier League (EPL), and even obscure leagues in China, Australia, or Peru.
As with hockey and football, you need to find value. You can win 8/1 on a rank underdog to win away from home, but the real odds could be more than 10/1. Similarly, you can bet on a first goalscorer at 2/1. In reality, though, the true odds of a single player from a team of 11 attacking players might be more like 8/1.
The over/under 2.5 Goals market is one of the best bets. You get odds on the total goals in a match being over 2.5 goals or under 2.5 goals. For example, if a game finished 2-0, the result would be under 2.5. A game finishing 4-0 would be over 2.5.
You can find value by betting over 2.5 goals in leagues with high goal averages. In Italy, for example, most games finish with a total of around 2.7 to 2.9 goals. If a sportsbook hasn't priced the Over 2.5 market properly, you can get value.
Most Entertaining Sports for Betting
Nothing beats the thrill of following a game or match while you bet on it. That's why in-play betting is so fun.
With in-play betting, you place bets as the game progresses. A team scores a touchdown, the real-time odds change to reflect the new situation. A player scores an ace, the odds on the number of aces changes too.
Many US sportsbooks also let you cash out your bet before it settles. The cash out function allows you to settle your bet early and take a smaller payout. You are then free to use your funds to place more bets.
Tennis: Arguably, tennis offers more in-play entertainment than any other sport. You can bet on Grand Slams or smaller ITFs and ATPs in-running. Follow the action live via a graphic visualizer showing all the game states and make quick bets on the next point winner, or the first player to get to 5 games. Tennis betting is fast, fun and frantic.
Basketball: For entertainment and drama, basketball is hard to beat. Bet in-play as a game takes place and put down bets as your team races to the other end of the court to score.
Specials: Good US sportsbooks also run novelty markets on areas like politics, TV, and movies. Bet on the next US President, the next winner of Dancing with the Stars, or the big Oscar winners of the year.
Horse Racing: Some US sportsbooks now offer markets on horse racing and greyhounds at tracks across the country. You can even watch live streams and follow your favorite horses after you make a bet.
Easiest Sports to Bet On
Here are our picks of the easiest sports to bet on in 2023:
Basketball: You can place dozens of bets on NBA or NCAAB games without leaving your front room. Good sportsbooks also offer specials like the Rookie of the Year or MVP for the upcoming season.
Basketball is one of the easiest sports to bet on as it carries relatively simple markets. Bet on Total Points before or during the game or bet in-play on the first player to hit 40, 50 or 60 points.
Football: There are probably more markets on NFL games at US sportsbooks than any other sport. Nevada sportsbooks took over $150m in bets during the Super Bowl in 2023, proving its popularity with gamblers.
The easiest market in NFL is the Moneyline. This is an outright bet on who will win the game. The point spread is slightly more complicated but is essentially a handicap given to the favorite. You can back the favorite with a negative points handicap, or the underdog with a positive points advantage.
Soccer: The MLS (Major League Soccer) is one of the biggest leagues in the US for sports betting. It's also one of the easiest leagues to bet on.
The beauty of soccer betting is that there are few point spreads to worry about. The markets are a lot easier to understand, and you can even bet in-play during the game.
Popular soccer bets include 1X2 (Home, Draw, Away result), correct score, or 1st goalscorer. In-play betting on soccer is easy, and you can bet on a range of results like scorer of next goal, time of next goal, and next corner.
Easiest Sports to Predict
US sportsbooks offer thousands of markets on dozens of sports. But what are the easiest sports to predict?
In many cases, it will boil down to what game you know well and are passionate about. You may have great knowledge of the Philadelphia Eagles or be a keen follower of Canadian NHL teams.
With inside knowledge, it can be easier to know which sports to bet on. But some sports where there is a choice of two outcomes make it easier to predict.
Soccer is a good example. Home teams statistically have a higher percentage win over away teams. And the most popular scores for home teams are 1-0 and 2-1. With that knowledge, you can make good judgment calls on Moneyline/1X2 bets or correct score wagers.
As we've mentioned, college football offers value to away teams, but that makes it harder to predict. Pro football is much easier, where home advantage is much stronger. The top NFL teams in the 2019/20 season won 62-75% of their games overall.
In the NBA 2019-20 season, meanwhile, the top six sides had a win percentage of over 60%. The Milwaukee Bucks had a win percentage of 86%. Bookmakers' odds on a win for that side would be quite poor, but they would make the result easy to predict.
Find the Best Sports Betting Sites in 2023
With our guide, you will have discovered the easiest sports to bet on and the markets where you can make a profit.
Sign up to one of our top-rated sportsbooks today and make a bet today.
Best Sports to Bet on FAQs
What sport is best to bet on?
The best sport to bet on is the one you enjoy most and one which you know the most about. If you want to increase your chances of winning, though, more knowledge is helpful and makes it easier to find value so stick to what you know.
What is the easiest sport to bet on?
It depends on the type of bet you want to make. Generally, moneyline bets are the easiest to make because you simply need to bet on whether 1 team wins or the other.
What is the hardest sport to bet on?
Sports that you don't know much about would be hard to bet on as there may be terms you don't understand in bets, for example cricket. It is also dependent on the type of bet you choose, if you're unsure keep things simple and stick to the moneyline.
Which sport is considered the easiest for gamblers to win at?
College football is widely regarded as the sport that is easiest for gamblers to win at, however this is partly because of the limited number of games in a football season compared with basketball, soccer or baseball.
How can I win an easy bet?
Study statistics, form and find a favorite that you think is definitely going to win. Bet on the favorite on the moneyline and you stand a good chance of winning your bet.