UFC Betting Sites Explained
Welcome to the only UFC betting guide you'll ever need! We're here to help those of you who know the difference between a guillotine and rear naked choke but feel lost when it comes to UFC betting online. We are experts when it comes to betting on the Ultimate Fighting Championship (UFC). We'll walk you through how to bet on UFC fights and show you best UFC betting sites for US bettors. Ready to get started? Claim your bonus below and start betting today.
UFC Betting Sites Explained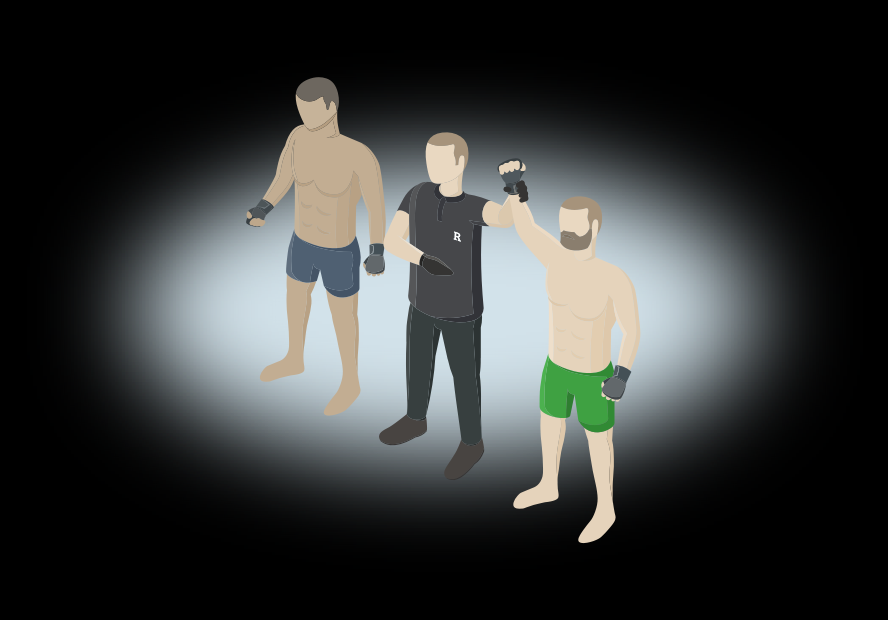 Best Sites to Bet on UFC
No Deals Available Yet!
Hey partner, We're sorry to inform you that we don't have any deals available just now. Currently, we are vetting regulated online gambling and betting sites for every state. In a few weeks you'll find our pick of the best sites right here, so check back soon. In the meantime, you might be interested in learning more about sports betting, the best sports to bet on and interesting strategies.
MORE ABOUT SPORTS BETTING
UFC Betting Odds Explained
Before you bet on your favorite fighter knocking their opponent out in the very first round, it's vital that you understand how to read UFC betting odds. Don't worry – it's all very straightforward.
There are different types of odds format, but the most important thing is to understand how American odds work. This is the default format used by US sports betting sites. When you navigate to the UFC odds section on a sportsbook, you'll see the odds for each fighter displayed beside a plus (+) or minus (-) sign.
The number displayed beside the plus sign indicates how much you would win for every $100 you bet. A negative number indicates how much you must bet to win $100. This means that favorites are always listed beside a minus sign, while underdogs are listed beside a plus sign.
Fighter A (-500) vs. Fighter B (+800)
Fighter A is the clear favorite to claim victory in the Octagon. To win $100, you must bet $500. If you believe an upset is on the cards, you could bet $100 on Fighter B to win $800.
Let's give you an example to reinforce how UFC betting lines work.
What happens when the fight is too close to call, we hear you ask? In such cases, the UFC betting odds could be identical for both fighters. This is called a 'pick 'em' fight and essentially means that the oddsmakers can't decide which fighter is most likely to win. Neither fighter has an edge, essentially making the fight a coin flip according to the sportsbooks.
How to Bet on UFC Fights
Now that you know how to read UFC odds, it's time to put your money where your mouth is. To show you just how easy it is to bet on UFC fights, we have created the following three-step guide.
Step 1 – Do Your Research on UFC Fighters
It's important that you're familiar with the fighters you are betting on or against. By knowing the strengths and weaknesses of each fighter, you will be more informed when it comes to placing your bets. While a boxing expert could have an unbeaten record with 10 straight knockouts, they could find themselves in a spot of trouble if they step inside the Octagon with a wrestling or jiu-jitsu specialist.
Before we bet on UFC fights, we always visit UFCStats.com. This website makes it quick and easy for you to compare how fighters match up against each other. All fights are listed for each event. Simply click on the matchup that you're interested in betting on. You will see each fighter's overall record and vital statistics like height and reach. This official UFC data also includes detailed striking and grappling stats.
Step 2 – Compare Odds at Online Sportsbooks
You've identified which fight you'd like to bet on, so your next step is to find the best UFC odds. While many online sportsbooks in the United States claim to be the best UFC betting site, the reality is that you'll have to hunt for value.
Why would you place a moneyline bet on a fighter at odds of +700 if you can simply log in to a different sportsbook and get odds of +750 instead? Shop around for the best odds. The recommended sites on our list are always consistent with odds although they might vary slightly, so signing up to more than one site is a good idea.
One sportsbook may offer the best odds for a fight, but a different sportsbook could offer better odds for the next fight. Another advantage of joining multiple online sportsbooks is that you can take advantage of welcome bonuses. Most US sportsbooks reward you with a 50% to 200% bonus when you make your first deposit. This means that you will have additional funds for UFC betting markets.
Step 3 – Confirm Your Bets and Watch the Action
After you compare UFC betting odds at the best US online sportsbooks, it's time to place your bets. Simply log in to the sportsbook offering the best odds on the market you want to bet on. Click on the bet you'd like to add to your bet slip and then enter how much you'd like to wager. You can check potential returns and odds before you confirm. If you are placing a parlay bet, you can simply scroll through the other betting markets and add more selections to your slip.
The next step is to put your feet up and watch the fighters go toe-to-toe inside the Octagon. Having bet on UFC fights, you'll feel even more excited when Bruce Buffer announces, "It's time!" You can catch every strike and takedown on ESPN+, the UFC's home for viewers in the United States. If you're already a big UFC fan who pays for UFC Fight Pass, you can simply log in and stream the fights this way instead.
Common UFC Bets
Think you can only bet on who will win a fight? Think again. One of the most attractive aspects of UFC betting is the extraordinary number of markets available. The most common types of UFC bets are:
Moneyline Bets
This is by far the most popular type of bet when it comes to UFC betting. When you place a moneyline bet, you are simply betting on who you think will win the fight. However, it's very important to look for value when you place moneyline bets. For example, it wouldn't be wise to bet $100 on Conor McGregor to win if his odds were set at -2000. You would only secure a profit of $5 if he won. Talk about risky!
Many online sportsbooks also offer three-way moneyline bets to include an option for the draw. UFC betting lines for draws are very attractive considering how rare they are in the world's premier mixed martial arts organization. It's a particularly attractive proposition if you want to bet on a pick 'em fight.
Prop Bets
For something a little different, check out prop bets before you bet on UFC fights. This type of bet covers everything from whether or not a fight will happen to which fighters will be awarded one of the $50,000 bonuses handed out by UFC president Dana White at the end of each event.
Fight of the Night, Submission of the Night, and Knockout of the Night bonuses are awarded for each event as an incentive for fighters to put on a show. UFC betting sites usually offer attractive odds for this market as more than a dozen fights feature on most cards, meaning at least 24 fighters are in the mix.
Parlay Bets
A parlay bet is perfect if you're on a tight budget. Instead of placing individual bets, you simply combine bets onto the same betting slip. The benefit of this is that you will receive a larger payout. However, the bet can be riskier. Let's say you place a parlay bet on five fighters to win. The first four have left the Octagon with another win on their records, but the fifth and final fighter loses – so does your bet!
One lucky (some might say savvy) bettor turned $1 into $48,291 on a nine-leg UFC parlay in 2015. The bettor backed nine underdogs on the UFC Fight Night 61: Bigfoot vs. Mir event held in Brazil.
Over/Under Bets
Over/under bets allow you to predict the duration of a fight. UFC betting sites usually offer over/under 0.5, 1.5, and 2.5 for three-round fights. Naturally, this extends to include over/under 3.5 and 4.5 for championship fights. This is a great type of bet to place if you anticipate a quick knockout or a slugfest.
Let's say you bet under 0.5. This means that the fight must finish in under 2 minutes and 30 seconds for a bet to win. Jorge Masvidal set a record for the quickest knockout in the organization's history at UFC 239, taking just five seconds to defeat Ben Askren. Those who bet on under 0.5 would have been very happy!
Method of Victory Bets
Doing your research on UFC fighters and knowing how their skills match up against each other can help you profit when it comes to UFC betting. Method of victory bets give you the opportunity to predict how a fighter will win. A fighter can win via decision; by submission; by KO, TKO, or by DQ.
As you might expect, UFC betting sites offer better odds for method of victory bets when compared to moneyline bets. Let's say a knockout artist is -1000 to win on the moneyline. The odds of this fighter winning via KO or KTO might be set at -900 due to the other methods of victory that are possible.
UFC Betting Strategies
Now that you know how to bet on UFC fights, it's time to focus on things you should consider before placing your bets. Here are three tips to help you profit from UFC betting:
Styles Make Fights
If two knockout artists are squaring off inside the Octagon, it's highly likely that somebody will be put to sleep. If it's two elite level wrestlers fighting for a win, they will be looking for takedowns and rolling around on the floor for a while. Knowing the style of fighters helps you make more informed decisions when you bet on UFC fights. Bet on the under for scenario one, and the over for scenario two.
Search for Value
Don't be that person who tries to predict the outcome of every fight on the card. We know it can be tempting, but there is more chance of you making a profit by searching for value. Value is about finding odds that you think the sportsbook has got wrong or underpriced.
For example, the best UFC betting site might offer moneyline odds of +300 on a fighter to win a bout but you think this fight will be much closer and may be a 50/50 call. If you think the fighters are evenly matched, +300 can be considered a value bet.
Watch the Weigh-Ins
Wait until the weigh-ins are done and dusted before you bet on UFC fights. If a fighter had a bad training camp and struggled to cut weight, signs of this will show when they step onto the scales. They might feel drained from cutting so much weight, which would mean they lack their usual power. UFC betting lines usually shift quickly when this happens, so try to watch the weigh-ins live on YouTube and act fast.
What We Look for in a Great UFC Betting Site
We aren't being big-headed when we say we are sports betting experts. We have racked up many years of experience testing and reviewing the leading UFC betting sites for US players. While we consider many factors when judging the best UFC betting site, four of the key factors we look for include:
Promotions
The best online sportsbooks for UFC betting love to treat bettors to amazing bonuses. At the end of the day, this is essentially how they fight for your business. You can benefit from some very generous welcome and reload bonuses, plus many sites also run promotions offering tickets to UFC events.
Banking & Payouts
A great UFC betting site boasts an array of banking options. These online sportsbooks provide several deposit methods that allow you to fund your account instantly. They also process cashouts at the speed of light. You will never have any trouble withdrawing when you bet at one of our recommended sites.
Legal & Licensed
Considering our website is called LegalBetting.com, you shouldn't be surprised that we only recommend licensed sportsbooks for US players. These are the safest and most trustworthy UFC betting sites for your state. We would never recommend a UFC betting site that we don't use ourselves.
The Best UFC Betting Odds
It's no coincidence that the most popular online sportsbooks offer the best UFC betting odds. Let's face it, why would you bet on UFC fights at sportsbook A when you can place the same bets and win 10% more at sportsbook B? You will get value for money and maximize your profits at our top sportsbooks.
It's important to stress that these are only four of the factors we consider when reviewing the best UFC betting sites. There are lots of other things we consider, and we never recommend a bad site or one that we wouldn't use ourselves.
FAQs
Is UFC betting legal?
In the following states, yes. New Jersey, Pennsylvania, Indiana, West Virginia, Iowa, New Hampshire, Nevada, Oregon, Rhode Island. Many more states are in the process of making UFC betting legal.
Can you bet on UFC fights online?
If your state has already legalized online sports betting, then yes. Just make sure you place your bets at one of our recommended UFC betting sites. Our experts have confirmed that they offer the best odds.
What does +150 mean in betting?
UFC betting lines with a plus (+) sign indicate how much you would win for betting $100. Using odds of +150 as an example, a $100 bet on the correct outcome would return a profit of $150.
Is the favorite plus or minus?
The favorite is always minus when you bet on UFC fights. Just remember that a minus indicates how much you must bet to win $100. A plus indicates how much you will win for every $100 you bet.
How do odds work in UFC?
UFC betting lines are always listed as American odds at US online sportsbooks. If a fighter is -500 to win, you must bet $500 to secure a profit of $100. If the odds are +200, a winning bet equals a profit of $200.