MMA Betting Sites
Whether you've been a fan of mixed martial arts since the days of Ken Shamrock and Royce Gracie or you've just been bitten by the MMA bug, we're here to help you with every aspect of MMA betting. We are self-confessed sports betting obsessives who love to help beginners. We will teach you everything you need to know about MMA betting before directing you to the best MMA betting sites for your state. Claim your bonus and start betting below or keep reading to learn more.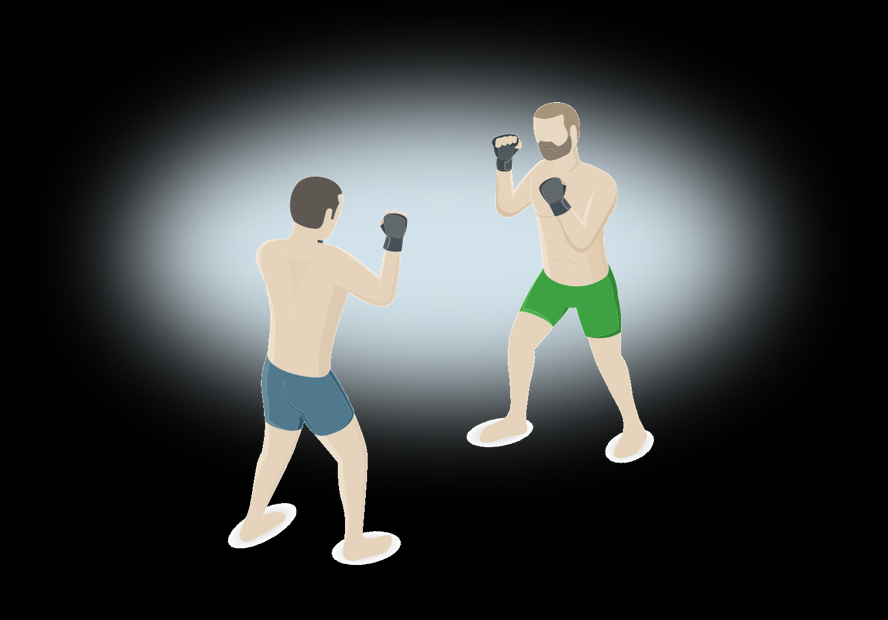 Best Sites to Bet on MMA
No Deals Available Yet!
Hey partner, We're sorry to inform you that we don't have any deals available just now. Currently, we are vetting regulated online gambling and betting sites for every state. In a few weeks you'll find our pick of the best sites right here, so check back soon. In the meantime, you might be interested in learning more about sports betting, the best sports to bet on and interesting strategies.
MORE ABOUT SPORTS BETTING
What the Best MMA Betting Sites Offer
Many MMA betting sites claim to be the best option for US players, but we've been around for long enough to take such claims with a pinch of salt. In our experience, the best MMA betting sites offer:
Generous Free Bets
Who doesn't love something for nothing? Many of the best MMA betting sites treat new customers to a free bet upon signing up. The top online sportsbooks will also reward you with regular free bets from the moment you make your first deposit. It's their way of thanking you for being a loyal customer.
Great Customer Support
Any problem you encounter will be resolved in the blink of an eye when you bet at our recommended sportsbooks. Whether you send an email, fire up a live chat, or get on the telephone; a friendly and knowledgeable member of the support team will quickly help you get to the bottom of any issue.
State-of-the-Art Security
There is no danger of your personal information being leaked at any of the MMA betting sites we recommend. They utilize multiple firewalls and the latest encryption technology to ensure your account is never compromised. Everything from logging in to making a deposit is completed safely and securely.
Mobile Betting
Plenty of states have legalized mobile sportsbooks, and many more will do so in the near future. If mobile betting is allowed in your state, then you should be able to bet on MMA fights using any tablet or smartphone. You simply need an internet connection and you can bet on fights anytime, anywhere.
While these are four of the main factors we consider when reviewing MMA betting sites, there is so much more that we take into consideration. To receive our seal of approval, sportsbooks must offer attractive MMA betting odds, have a fantastic reputation among bettors, and much more.
How do MMA Betting Odds Work?
Just like any other sport you can bet on at online sportsbooks for US players, you will see MMA betting odds listed in American, decimal, or fractional odds. Many sports betting sites allow you to seamlessly switch between these different odds formats at any time with the click of a button.
There is always a plus (+) and minus (-) sign listed beside numbers for each fighter involved in a bout when American odds are displayed. The favorite is always minus (-) and the underdog is always plus (+).
The minus (-) sign states how much you must bet to win $100. Working in the opposite way, the plus (+) tells you how much you will win for every $100 you bet. Let's give you a quick example:

Fighter A (-750) vs. Fighter B (+500)

Using the example above, Fighter A is the clear favorite to exit the cage victorious. You would have to bet $750 to win $100. The MMA betting sites don't believe Fighter B has the skills required to defeat Fighter A, hence why they are they find themselves in the position of the underdog. However, a surprise win would return $500 on a $100 bet.
Types of MMA Bets
You can bet on so much more than who is going to win the fight when you bet online. MMA betting sites offer an array of other markets that you should familiarize yourself with before placing your first bet.
Let's take a closer look at five of the most common types of MMA bets.
Moneyline Bets
As we've already alluded to, moneyline bets simply involve you betting on who you think will win a fight. If you put your money on Fighter A and they win, you win your bet. If they lose, so does your bet. The MMA betting odds for a heavy favorite could be as low as -900 or -1,000. This means you would have to bet $900 or $1,000 to win $100, so we strongly advise searching for value when betting the moneyline.
Parlay Bets
Don't like the idea of betting a lump sum on the moneyline? Then you should consider combining multiple selections into a parlay bet. For example, you could bet on five fighters to win their respective fights. You would benefit from superior odds, which ultimately means more money in your pocket if all selections win. The obvious disadvantage to a parlay bet is that just one losing selection ruins your bet.
Over/Under Bets
Over/under is another popular market among bettors at MMA betting sites. You are simply betting on how long you think the fight will last for. Available markets will depend on whether the fight is scheduled for three (non-title fights) or five (title fights) rounds. If you bet on over 1.5, you would be crossing your fingers for the fight to last at least 7 minutes and 30 seconds to win your bet.
Method of Victory Bets
This market will interest those of you who know your fighters and do your research. You simply bet on both a fighter to win and how they will win. They could win by unanimous, split, or majority decision. Perhaps they will showcase their power to secure the win by KO or TKO. If they specialize in jiu-jitsu, they may be more likely to win via submission. And on very rare occasions, fighters can win by DQ.
Prop Bets
The best MMA betting sites also offer a selection of prop bets. These are fun bets designed for neutrals, as they don't require you to predict the winning fighter. Types of prop bets include method of victory, but this time you can select KO or TKO and cheer on both fighters to knock each other out. You can also bet on the fight going the distance, predict which round the fight will end, and more.
How to Place a Bet on an MMA Fight
Now that we have taught you how MMA betting odds work and explained the types of MMA bets you can place, let's teach you how to bet on MMA fights online. It's very easy – just follow these four steps:
Step 1 – Join an Online Sportsbook
Before you can place a bet on an MMA fight, you'll have to create an account at an online sportsbook. This is a quick and easy process that will only take you a couple of minutes. Simply enter your personal details, enter your desired username (what's the odds on "MMABettingGod" being unavailable?), and then create a strong password. Once you are logged in, simply visit the cashier to fund your account.
Step 2 – Place Your Bets
Now that your account has been created and you've made your first deposit, the next step is to place your bets. Simply navigate to the site's MMA betting section and select which mixed martial arts organization's event you'd like to bet on. A list of all fights on the card will then be revealed. The MMA betting odds for every market associated with that fight will then appear for you to put your money on.
Click the bet you're interested in and it will show on your virtual bet slip on the right-hand side of your screen. Here you can check the odds and potential winnings or create a parlay if you want. When you're happy, click confirm to place your bet.
Step 3 – Watch the Fights
After you confirm your bets, it's time to kick back and relax as the fighters try to knock twelve bells out of each other. If you've bet on the Ultimate Fighting Championship, you can watch the fights live on UFC Fight Pass or ESPN+. You can catch all the action for Bellator events live on the Paramount Network or via the popular DAZN streaming service. ONE Championship events can be watched on TNT or YouTube.
Step 4 – Withdraw Your Winnings
If your research pays off and you win your bet, the final step is to withdraw your winnings. The best MMA betting sites make it easy for you by providing a ton of cashout options. Simply navigate to the cashier and choose the option that suits you best. You may have to pay a small fee to make the transaction, and there may be a cap on how much you can withdraw in one go, so check the terms first.
MMA Betting Strategy
Like any sport, there are things that you should and shouldn't do when it comes to MMA betting. We believe knowledge is power, so we're going to give you some advice to help you become a sharper bettor.
Understand That Anything Can Happen
Everyone has a puncher's chance, right? Don't fall into the trap of thinking that an unbeaten fighter is untouchable. No matter how short their odds are and how invincible promotional videos make them appear, they are only human. Their opponent could catch them with a "lucky" punch at any time. That bet on the underdog at odds of +750 won't look too silly when their hand is raised at the end of a fight.
Research Every Aspect of a Fight
One of the best MMA betting tips we can give you is to research every fight you bet on. Don't just compare records and bet on Fighter A because they are unbeaten in five fights. They could have faced weaker opponents than Fighter B. Other factors to consider include the styles of both fighters (striker vs. wrestler, for example) and where the event is taking place (will travel and altitude have any impact?).
Top MMA Organizations
We have seen many MMA organizations come and go over the years. Fighters begin their mixed martial arts careers with the goal of competing inside the Ultimate Fighting Championship's eight-sided cage known as the Octagon. However, they must make a name for themselves in other organizations before being granted an opportunity to compete in the world's premier mixed martial arts company.
Let's take a closer look at the Ultimate Fighting Championship and its two main rivals.
Ultimate Fighting Championship
Superstars like Conor McGregor and Jon Jones compete in the Ultimate Fighting Championship (UFC). Founded in 1993, the UFC was acquired for $2 million in 2001 by the Fertitta brothers and Dana White. The UFC gobbled up competitors like Strikeforce, Pride, and WEC over the years to cement its position as the largest organization. The UFC was sold for $4 billion in 2016 and remains top dog.
Bellator MMA
Bellator MMA was founded in 2008 and has gone from strength to strength in recent years. The organization's tournament format has helped it build an impressive fanbase. These tournaments take place over the course of several months before culminating in a huge title fight. Fedor "The Last Emperor" Emelianenko is one of Bellator's superstars, and many former UFC fighters are in its roster.
ONE Championship
Singapore-based ONE Championship has been making waves in the mixed martial arts world since its founding in 2011. The organization's popularity across Asia – and the world, thanks to its free streams – grows with every event. Ex-UFC fighters like Demetrious Johnson, Eddie Alvarez, and Sage Northcutt have competed under the ONE umbrella. Martin Nguyen is also one of the organization's biggest names.
MMA Betting Glossary
We have tried to avoid jargon in this MMA betting guide to make it easy for beginners to follow. However, there are some terms you should be familiar with before betting on MMA, including:
Chalk: This is simply another term for the favorite to win a fight.
Closing Line: The MMA betting odds available just before the bell rings to get a fight underway.
Edge: When you believe the sportsbook has set its lines incorrectly and can take advantage.
Handle: The total amount of money that has been wagered on a fight or an event.
Lock: A lock bet is considered a guaranteed winner in the eyes of the bettor.
Pick 'em: When the fight is too close to call and the MMA betting odds for both fighters are equal.
Wiseguy: Always accept MMA betting tips from a "wiseguy." This is simply a term for a pro bettor.
FAQs
Where can I bet on MMA?
Once you fully understand how to bet on MMA fights online, it's time to head over to one of our recommended sportsbooks that we listed above. We filter sportsbooks by state, making it easy for you to find a trusted site.
Is UFC betting legal?
If sports betting has been legalized in your state, then yes. Sports betting is currently allowed in New Jersey, Pennsylvania, Indiana, West Virginia, Iowa, New Hampshire, Nevada, Oregon, Rhode Island.
How do you read betting odds?
MMA betting odds are usually displayed in the American odds format at US online sportsbooks. You will see a minus (-) beside the favorite, whereas a plus (+) is listed beside the underdog. The number next to the minus means how much you have to bet to win $100. The number next to the plus means how much a winning $100 bet will earn you.
What is a parlay bet?
A parlay bet is when you add multiple selections to the same betting slip. For example, you could bet on five fighters to win. This increases your odds and you'll benefit from a larger payout if all five picks win.