NCAA Basketball Betting Guide
As sports betting is legalized in more and more states, it's now easier than ever to start NCAA basketball betting online. It can be tough to know where to start, but we've got you covered. Read on for some quick tips when choosing your bets, what types of basketball bets you can make, and how to actually go about making your NCAAB betting picks. And when you're ready to go for real, signup at one of our recommended college basketball betting sites below.
NCAA Basketball Betting Guide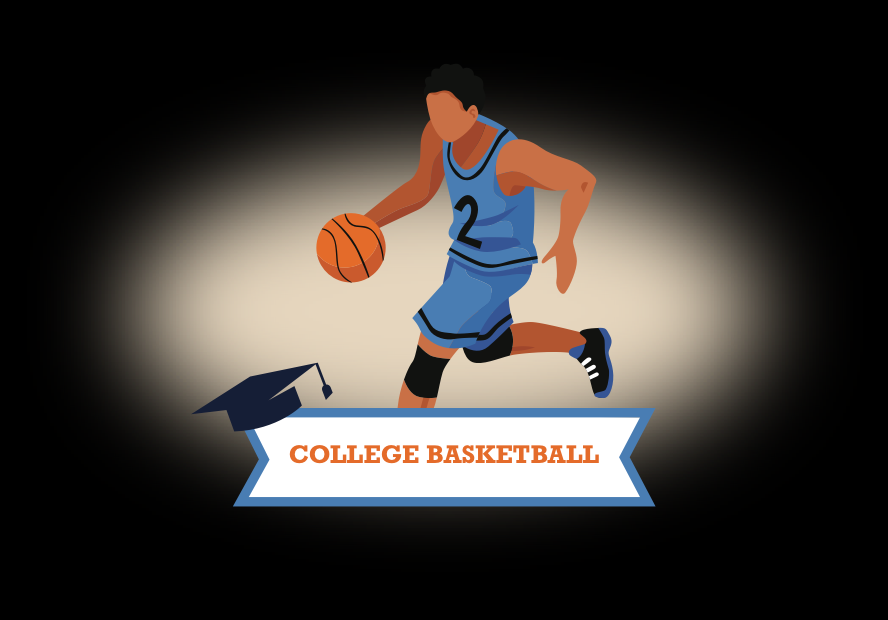 Best College Basketball Betting Sites
No Deals Available Yet!
Hey partner, We're sorry to inform you that we don't have any deals available just now. Currently, we are vetting regulated online gambling and betting sites for every state. In a few weeks you'll find our pick of the best sites right here, so check back soon. In the meantime, you might be interested in learning more about sports betting, the best sports to bet on and interesting strategies.
MORE ABOUT SPORTS BETTING
College Basketball Betting Strategy
Most of us aren't professional sports bettors and as such, we don't have the time, resources, and tested system to help us win consistently when we get started betting on college basketball. That isn't to say we can't win, though.
It just takes some research, more than just picking your favorite team or the team whose mascot would beat the other one in a fight. Here are a few basic pieces of strategy to consider when you hunt for your college basketball best bets:
Narrow Your Focus
There are hundreds of college basketball teams and therefore loads of games every day. Try to stick to picking games in one or two conferences so that you can get to know the teams and players well. If you have a favorite team, perhaps focus on that team's conference, as you will get to watch those games more often. Or try a regional conference that televises lots of games locally.
Think Small
It might be easier said than done, but even in this era of cable television packages, internet, and streaming services, the smaller conferences often get overlooked. It is easier to get information about big-name teams in big-name conferences.
Thus, college basketball betting sites are more likely to get lines for small conference games wrong. If you develop knowledge of those conferences, you will have an easier time spotting those bad lines.
Read Locally
Gather information from local newspapers and beat writers rather than national media. Dominant sites like ESPN.com and SI.com are certainly worth reading, but they traffic more in entertainment and hot takes than do the local news outlets that follow specific teams every day.
Home Court Advantage
This is tricky. Home court advantage definitely exists (look at the Big Ten in the 2019-2020 season), but to get it right, you really need to study, and preferably watch individual teams. Don't just take the national average.
After all, that's already baked into the NCAA basketball betting lines. If you can figure out why a team has an advantage (or doesn't), you can figure out if your estimate is better than the national consensus.
The flip side is the road team. Is a team perceived to have a massive home court advantage when in reality they have played against terrible road teams? Has the team beaten up on weaker opponents?
Additionally, home court advantage tends to matter less as the season goes on. Those freshmen who had jitters at the start of the season are more experienced and less nervous.
Naturally, there are tons of other things to think about and strategies to use when betting college basketball. Stats, injury reports, relative player experience, player matchups, and more are all things to look at. But if you pick one or two of the strategies we detailed above, you should feel confident that you are going to reach your college basketball best bets.
Types of NCAAB Bets
Point Spread
A point spread bet is a wager where a points handicap or bonus is applied to the game. The spread is the estimate of the number of points by which any individual NCAA basketball betting site believes the favorite will win (though it is adjusted based on the public's NCAAB betting trends leading up to the game).
A bet on the favorite wins if the favorite is victorious by more than the point spread. On the flip side, a bet on the underdog wins if the underdog loses by less than the point spread (or wins the game straight-up). The point spread is marked with a minus sign (-) if the team is a favorite and a plus sign (+) if the team is an underdog.
For example, if Virginia is a 5.5-point favorite over North Carolina, the point spread would read "Virginia -5.5" or "North Carolina +5.5."
In this case, Virginia wagers would win if Virginia wins by at least 6 points and North Carolina wagers would win if North Carolina loses by 5 points or fewer or wins the game outright.
An easy way to think of it when betting on the favorite is to subtract the point spread from the favorite's score at the end of the game. If the favorite still has more points, that bet wins. Conversely, add the spread to the underdog's score to determine if the underdog bet wins.
Point spread bets are typically made at a juice of around -110, meaning you would wager $110 to win $100. The ratio scales evenly for larger or smaller bets. The juice will vary, depending on the specific college basketball betting lines and the sportsbook, but it will be in the -110 range.
Moneyline
Moneyline bets are simply wagers on which team you think will win. No point spread is involved. Instead, the relative difference in the teams is represented by each team's price. The favorite's price will have a minus sign next to it, while the underdogs will have a plus sign.
For example, if Wisconsin is the favorite over Northwestern, the moneyline might be Wisconsin -165, Northwestern +130. This means you would bet $165 to profit $100 if you think Wisconsin will win or $100 to profit $130 if you think Northwestern will win.
Someone who wants to bet on the favorite might choose this type of NCAA basketball betting line in order to avoid the risk of a point spread in exchange for getting a worse price. On the other hand, someone who is confident that the underdog will win outright can make more profit on a moneyline bet than on a point spread wager.
Parlays and Teasers
A parlay is a combination of multiple wagers. You must win all of the component bets to win the parlay. Because of this restriction, parlay wins pay more than if the same bets were placed individually. Pushes (or ties) do not result in a parlay loss – they simply change the structure of the parlay, reducing it by one bet. For example, if you have a five-team parlay and one game is a push, the bet becomes a four-team parlay.
Teasers are similar to parlays, except that with a teaser, you move the betting lines in your favor by a pre-determined number of points. The most common teaser values at college basketball betting sites are 4, 4.5, and 5 points.
The more points by which you move the line, the worse your potential payout is. Like parlays, you must win all legs of the teaser to win the entire bet. And because you get to move the line, teasers don't pay as well as parlays.
For example, if you wanted to combine Virginia -5.5 and Wisconsin -8 into a two-team teaser, you could tease both lines in your favor by 4 points to end up with Virginia -1.5 and Wisconsin -4.
Propositions
Also known as "prop" bets, propositions are wagers on specific team or player stats. You might place a prop bet on how many assists a player will accumulate or how many rebounds the home team will collect. Prop bets can also be made on singular occurrences in the game, like who wins the opening tip.
Totals
These are also called "over/under" bets. Here, you are betting on whether the total combined score of the two teams will be greater than or less than a certain number.
Futures
Future bets are wagers made on a result that will not happen until a point in the future. Typically, this is a bet made on a team to win the conference or national championship. Most people make futures bets at the beginning of the season, but they can also be made well into the season; futures odds change as the season goes on.
The downsides to these bets are that there is less certainty so far in advance and your money can be locked up for months, but the upside is that the payout reflects this risk.
How to Place an NCAA Basketball Bet
First and foremost, you will need to create an account at a college basketball betting site. The process is essentially like joining any other retail site. Create a username and password and enter your personal information to get started. Some college basketball betting sites might request a photo ID and/or proof of address to verify you are who you say you are.
Once that is done, make a deposit using your preferred banking method and get to betting. Regulated US college basketball betting sites usually accept credit cards and e-wallets like PayPal.
Each NCAAB betting site will display a menu of games, along with the different money lines and point spreads. Just click on the bets you want to make, and the wagers will show up on a bet slip at the side of the screen. It is on that bet slip that you enter how much money you want to bet. Parlays and teasers can also be made directly on the bet slip using the games you selected.
When you are confident with your selections, click the button to confirm and lock in your wagers.
College Basketball Betting Sites vs Sportsbooks
The obvious benefit of using an NCAA basketball betting site instead of a brick-and-mortar sportsbook is convenience. You can place all your wagers from home on your computer or even while at the grocery store via a mobile app. This is particularly helpful if you don't live near a sportsbook.
Online betting sites are also less intimidating than live venues. You don't have to walk up to the betting window and pretend like you know what you're doing if you play online. Over the internet, you can take your time, learn about the different bets, do your research, and easily verify you are placing the bets you want to place. You don't have to feel self-conscious.
Everything is also just much more accessible online. It's easier to read the NCAA basketball betting odds, you can research NCAAB betting trends, flip through the different bets quickly, and even shop around to find the best NCAA basketball betting lines.
NCAAB Betting Apps
Most college basketball betting mobile apps are extremely similar to their desktop counterparts. The fact that you can use them on the go is clearly the primary difference, which makes using a mobile app for NCAAB betting much more convenient than using the computer.
You will always be able to see more information at once using your home computer, but the flip side of this is that mobile apps keep it simple because of limited screen space. For many people, this is an advantage, as you can just focus on the bets in which you are interested. Mobile betting apps are designed to make the wagering process simple and quick, requiring as few clicks and taps as possible.
Mobile betting apps are particularly good for live betting, also called in-play or in-game betting. While games are underway, the odds continuously change; many mobile apps offer the opportunity to place wagers on these ever-changing lines. The apps show you the NCAAB betting lines changing in real-time and let you place bets quickly and easily.
NCAA Basketball Key Dates
Conference tournaments begin: March 3
2020 NCAA Men's Basketball Tournament Selection Sunday: March 15
First Four: March 17-18
First and Second Rounds: March 19-22
Regional Rounds (Sweet Sixteen and Elite Eight): March 26-29
2020 Final Four: April 4 and April 6
FAQs
Is betting on college basketball legal?
How does the spread work in college basketball?
If you place a bet on the favorite using the point spread, that team must win by more than the spread for you to win your bet. If you place a bet on the underdog, that team must either win the game or lose by fewer points than the spread for you to win you bet.
Can you bet on NCAA women's basketball?
Yes. NCAA women's college basketball betting lines are not as common as men's, but some sites do offer them.
Where can I bet on NCAA basketball?
We have done the research for you and have put together a collection of our recommended college basketball betting sites to get you started.
What is a basketball money line?
The money line is a basic bet on who you think will win the game. The favorite's line is marked with a minus-sign and the underdog's line is marked with a plus-sign.