The Best College Football Betting Sites
College football betting is a fun way to America's most popular sport more exciting. If you don't know where to start though, don't worry. On this page, we have put together the basics on NCAA football betting strategy, a breakdown of different bets types, odds, and our expert recommendations for the best, legal college football betting sites. Ready for the action? Claim your bonus below and start betting today.
The Best College Football Betting Sites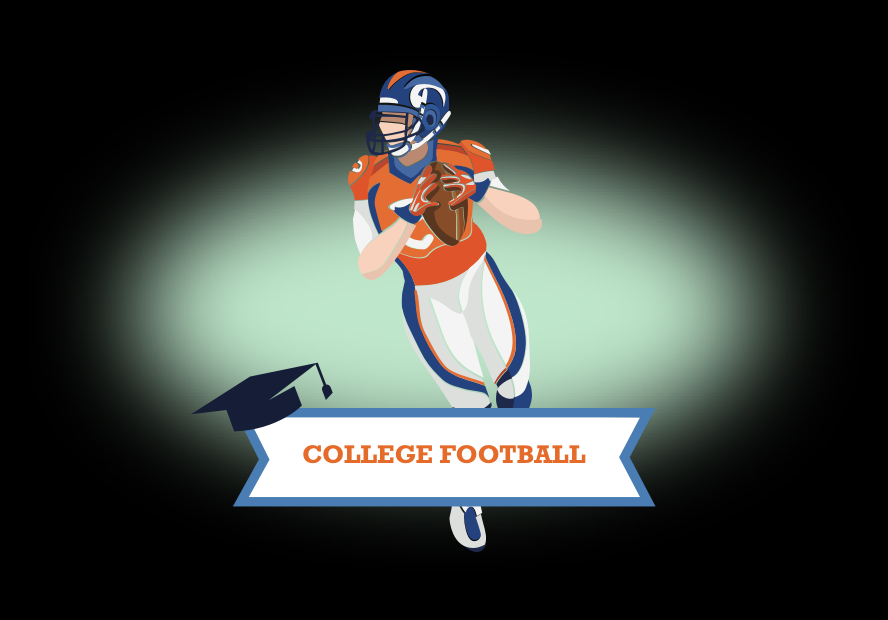 Best Sites to Bet on College Football
No Deals Available Yet!
Hey partner, We're sorry to inform you that we don't have any deals available just now. Currently, we are vetting regulated online gambling and betting sites for every state. In a few weeks you'll find our pick of the best sites right here, so check back soon. In the meantime, you might be interested in learning more about sports betting, the best sports to bet on and interesting strategies.
MORE ABOUT SPORTS BETTING
Popular College Football Bets
Moneyline
The easiest college football bet to understand, a moneyline bet is a wager on a team to win the game. The favorite is listed with a minus sign (-) next to its line, while the underdog has a plus sign (+) next to its line. For example:
LSU -220
Clemson +180
LSU is the favorite and Clemson is the underdog. A winning $220 bet on LSU would profit $100. A bet on the underdog Clemson would win $180 on a $100 wager if the Tigers were to win. The larger the moneyline, the larger the favorite or underdog.
Point Spread
The difference between the favorite and underdog can also be expressed as a point spread. Rather than betting on a team to win straight-up, you are betting on a team to beat the spread.
The favorite must win by more than the point spread for that bet to win. In contrast, an underdog must lose by less than the spread or win the game outright. Here are what NCAA football betting lines might look like when using the point spread:
LSU -5.5 -110
Clemson +5.5 -110
The first number is the spread and the second number, the large one, is called the juice.
Often you will just see a single point spread listed in college football betting lines, indicating which team is the favorite or underdog based on the plus or minus sign.
Here, LSU is a 5.5-point favorite (half points are used to avoid pushes or tied bets). Someone wagering on LSU would win their bet if LSU wins by at least 6 points. A bettor would win with Clemson if they win the game or lost by 5 or fewer points.
The juice indicates the payout should that side of the bet win. With the teams in the example above, a winning $110 wager would profit $100.
Parlay
If you watched the 2019 Adam Sandler film Uncut Gems, you saw NBA parlay bets in action. A parlay is multiple games packaged together into a single bet. Every outcome must come through for the parlay bet to be a winner. The risk is greater than using the same games as multiple individual bets, but the reward is greater, as well.
For example, you might like Virginia, Florida State, Louisville, and Boston College to all win their games one weekend. Rather than placing four moneyline bets, you decide to place a four-team parlay. To win the parlay, all four of those teams must win their games. If you win 3 out of 4, you lose the bet.
If you're using point spreads and one game ends in a push, the parlay doesn't lose, but rather is reduced by one game. Thus, a four-team parlay would become a three-team parlay and the potential payout would be reduced accordingly.
Teaser
You might want to bet on a college football parlay using point spreads, but don't love the betting lines. That's what a teaser is for. With a teaser bet, you can move the lines in your favor. Typical line moves are 6, 6.5, and 7 points. Just like with a parlay, all outcomes must-win for the entire teaser to payout. Because you get to move the lines, the payouts are not nearly as large as they are with parlays.
Say you liked Clemson +5.5 and Oklahoma -3 and wanted to put them into a two-team, 6-point teaser. In this case, your new college football betting lines would be Clemson +11.5 and Oklahoma +3.
Totals
Also known as over/under, totals bets are a wager on whether the total score of the two teams in a game will be greater than or less than a certain number.
So, before the Clemson/LSU sportsbooks will offer odds on over or under 67. If you back the under and the score is 21-24, you win. Pretty simple.
Prop Bet
Short for "proposition bet," this is a bet on very specific outcomes or statistics in a game, not the actual winner or final score. You might find an over/under prop bet on how many receiving yards a certain player might have or how many rushing yards a team will amass.
Futures
Future bets are usually bets placed on a season-long outcome. Common future bets are which team will win the National Championship or which team will win a certain conference. Futures can be placed on individual players too, such as who will win the Heisman Trophy.
How to Place a Bet on a College Football Game
Before you place a bet, you need to create an account on the NCAA football betting site of your choice. For the most part, it's no different than creating an account anywhere else, like your favorite shopping site. Start with your e-mail, username, and password, then enter your personal information like name, address, and phone number. A social security number is usually required, as well.
Many online college football betting sites will also ask you to verify your identity by providing a photo ID and a utility bill to prove your address is real. This request may come upon initial signup or when you cash out for the first time. In some jurisdictions, you might have to visit a brick-and-mortar office to complete your registration.
Then you need to deposit money into your account. Deposit methods vary from site to site, but range from debit and credit cards to electronic funds transfers to e-wallets.
Once the money is in your account, it's time to bet. Navigate to the college football betting lines, scroll to find the game you want, and then click the bet you like. That bet will appear on a betting slip. It is on that betting slip that you can enter in the amount you wish to wager. You can also choose to combine multiple bets into a parlay or teaser. Once everything is how you like it, click the appropriate button to confirm the bet.
College Football Betting Strategy
If you're not sure how to bet on college football, there are many things you can do to increase your chances of winning. Here are our college football betting tips to get you started:
Points Per Play (PPP)
Research teams' PPP. The team with the higher PPP, which means that the team has more long yardage, explosive plays per game, wins the matchup the vast majority of the time. If both teams have high PPPs, the over might be a good bet
Go Off the Beaten Track
While oddsmakers know a lot about college football, they don't know everything. Both sportsbooks and the public know a lot more about the big-name teams in major conferences, so the point spreads in those games (think Michigan, Notre Dame, Florida State, Auburn, etc.) are likely to be fairly accurate.
If you can focus on smaller conferences, you could very well find lines that diverge from reality and take advantage of them.
Check the Weather
Look for windy games, in particular. If the forecast calls for high winds, passing becomes more difficult, especially since we're talking about college quarterbacks and not pros. Thus, not only is passing less efficient, but teams will run more, which keeps the clock running, reducing the number of drives in the game.
College kickers aren't typically great either, so they will be adversely affected by wind. Scores will be suppressed. The best college football bets in these windy games are likely going to be the unders.
Home Field Advantage
The home team usually gets three points from the bookmakers, but don't worry about home-field too much. It's certainly a thing – home teams are more comfortable and better rested – but bookmakers know that the public likes home teams and will often adjust their lines to account for that.
While home teams win more often straight-up, The Action Network actually found that home teams are slight losers against the spread.
Look for Low Totals
And look for them even if you aren't betting over/under. Low totals mean that the teams aren't expected to score much. Just like with home teams, the public likes to bet on favorites.
Value can be found in road underdogs if the total is low. In those situations, with a total of no more than 50, road underdogs beat the spread more than half the time. Low point spreads are even better.
NCAA Football Betting Live
Live betting on college football games, also called "in-play" or "in-game" betting, is essentially the same as when you place any other regular bet on college football.
Many NCAA football betting sites have a special live betting section that displays constantly changing college football betting lines while the game is in progress. Just go to that part of the site, find the bet you want to make, and place your wager just like you would for any other bet.
Betting on the Biggest College Football Games
After the regular season, Football Bowl Subdivision (FBS) teams with at least six wins are eligible to play in a bowl game. Five of those wins must be against other FBS teams. Most bowl games are fairly meaningless in the grand scheme of things, but players, coaches, and fans still enjoy being able to play in a postseason game.
There were 40 bowl games for the 2019-2020 college football season, all of which could be bet on at any NCAA football betting site.
The most prestigious bowl games are the "New Year's Six" bowls: Rose Bowl, Sugar Bowl, Orange Bowl, Cotton Bowl, Peach Bowl, and Fiesta Bowl. Each year, two of the New Year's Six bowls serve as the college football playoff semifinal games. For the 2019-2020 season, those two bowls were the Peach Bowl and Fiesta Bowl.
Separate from the New Year's Six bowls is the National Championship Game, the biggest game of the year not just for the season itself, but for online college football betting, as well. The winners of the two semifinal games meet in the Championship Game.
What Makes a Site the Best for College Football Betting
We have dug into all the different college football betting sites. We have done our research. And now we hand our expertise to you in the form of our recommended sites to bet on college football. Here are the criteria we consider when evaluating online sportsbooks:
Promotions
You could just pick a sportsbook randomly, but why not select one that will give you something for your business? Many sports betting sites offer deposit bonuses that allow you to earn extra money as you place bets. They offer other promotions, as well, such as free bets and rewards programs.
Legal & Licensed
This is the most important criterion by which we judge a site. If it is not legal and licensed, we will not recommend it. You can be certain that every online college football betting site we list follows the strict regulations of the jurisdictions in which they operate.
Number of Games and Lines
Look, if an online sportsbook is a ghost town, how are you going to bet on college football? Our recommended college football betting sites are not only going to have the big games, but their betting lobbies will run deep with games from smaller conferences, as well.
The Best College Football Betting Lines
Honestly, most online sportsbooks are going to have very similar NCAA football betting lines. It's not like one is going to have Arizona State -2 and another is going to have Arizona State -16. But we aim to find the sites with the most attractive college football betting odds whenever possible. A small difference goes a long way, not over a weekend but over a season.
FAQs
Is betting on college football legal?
Yes, in New Jersey, Pennsylvania, Indiana, West Virginia, Iowa, New Hampshire, Nevada, Oregon, Rhode Island.
What is the over under in college football?
The over under (or "over/under") is a bet on whether the total score of the two teams combined will be above or below a specific number.
How do you bet the spread in football?
The spread is the number of points by which the bookmaker says a team will win or lose. If you bet on the favorite, that team must win by more than the spread for your wager to be a winner. If you bet on the underdog, that team must lose by less than the spread or win the game outright for your bet to come through.
Where can I bet on sports legally?
If you are in a jurisdiction where NCAA football betting is permitted, check out our recommended legal college football betting sites. We have done all the research for you.
What is the money line?
The money line is a wager on a team to win a game outright.